BARBARA ANN SCOTT Olympic Skater Doll 1950 Reliable Toy Canada Simpsons Xmas
SKU: Canada
Sorry, this item is out of stock
BARBARA ANN SCOTT Olympic Skater Doll 1950 Reliable Toy Canada Simpsons Xmas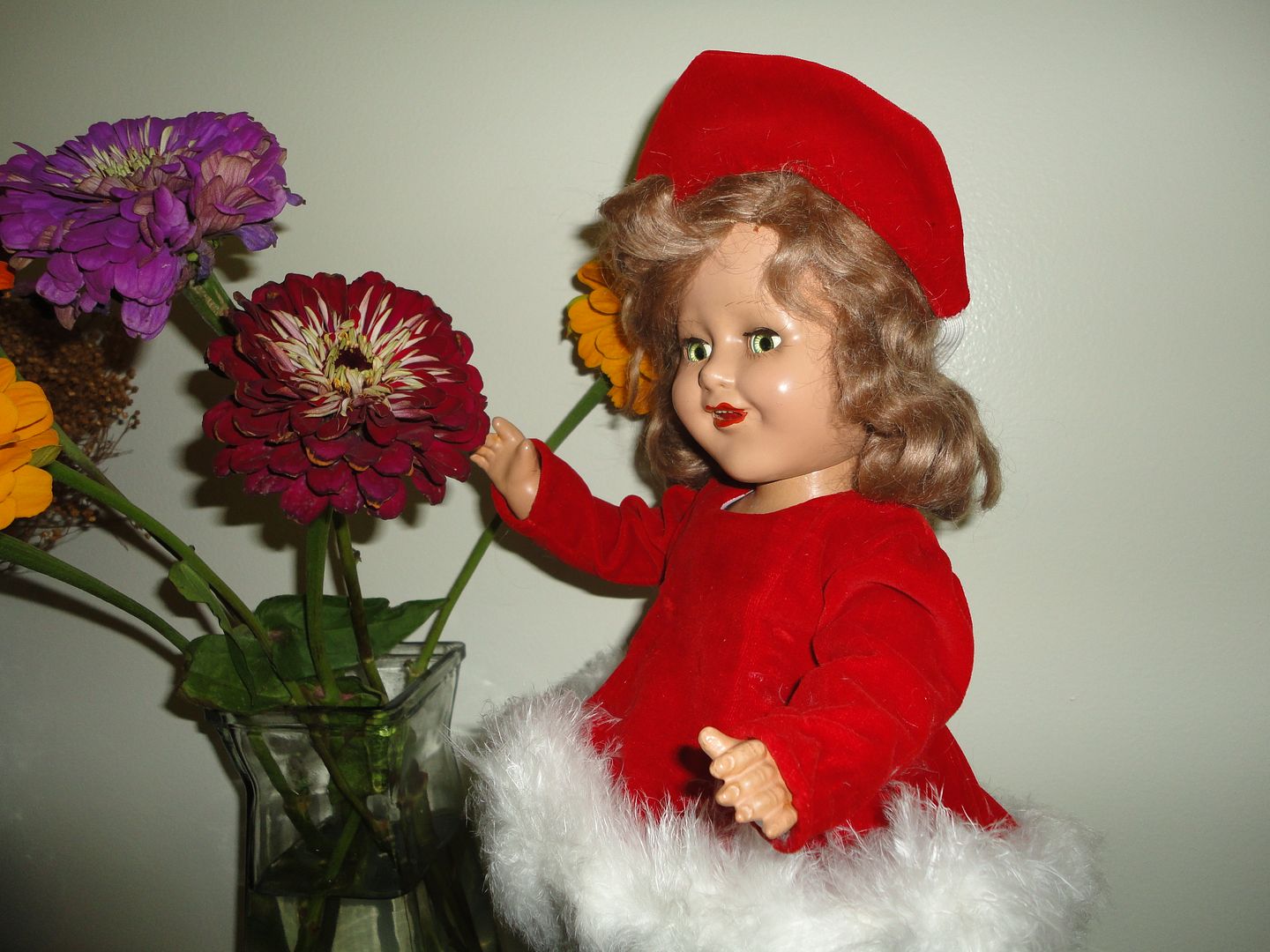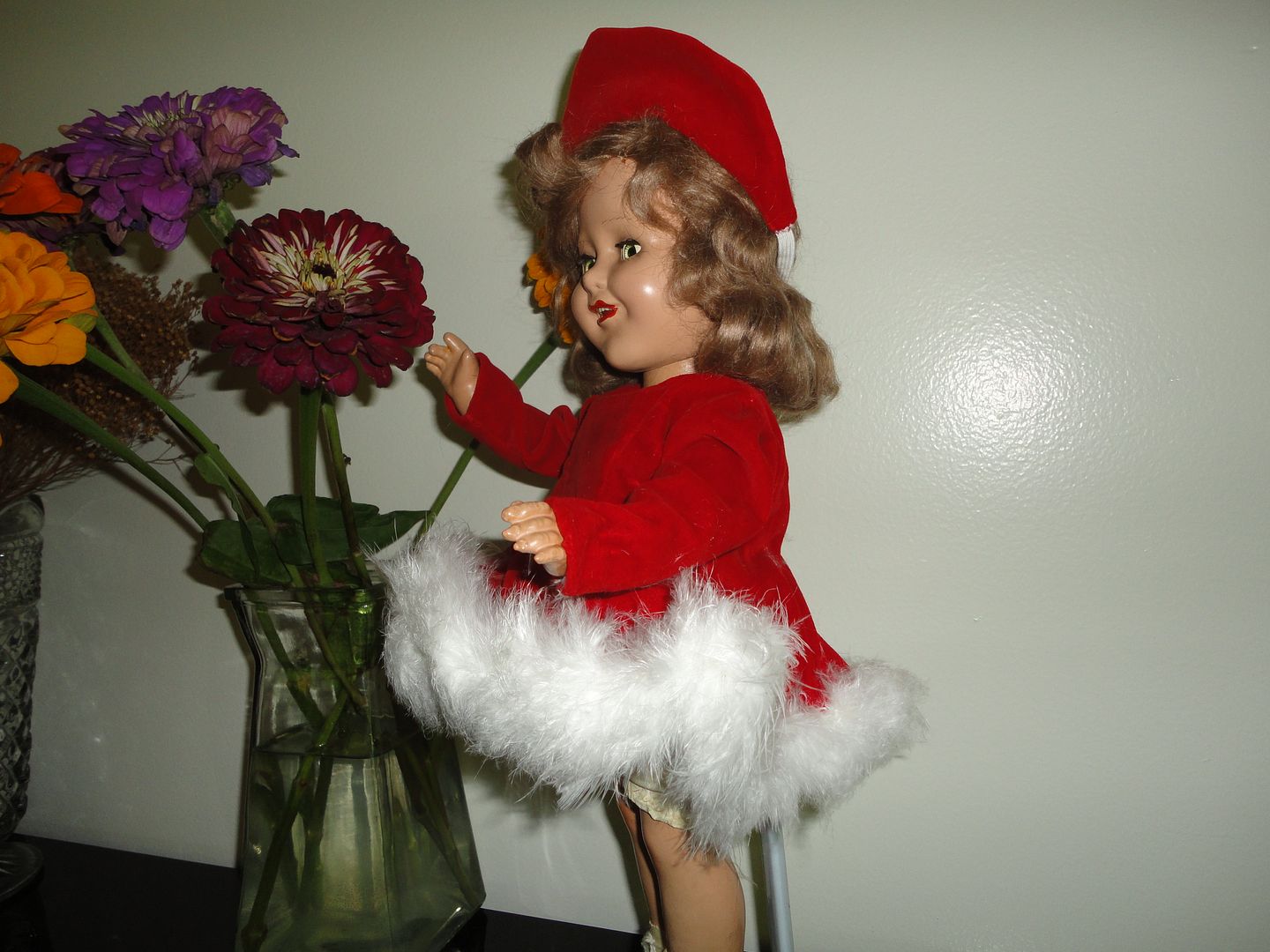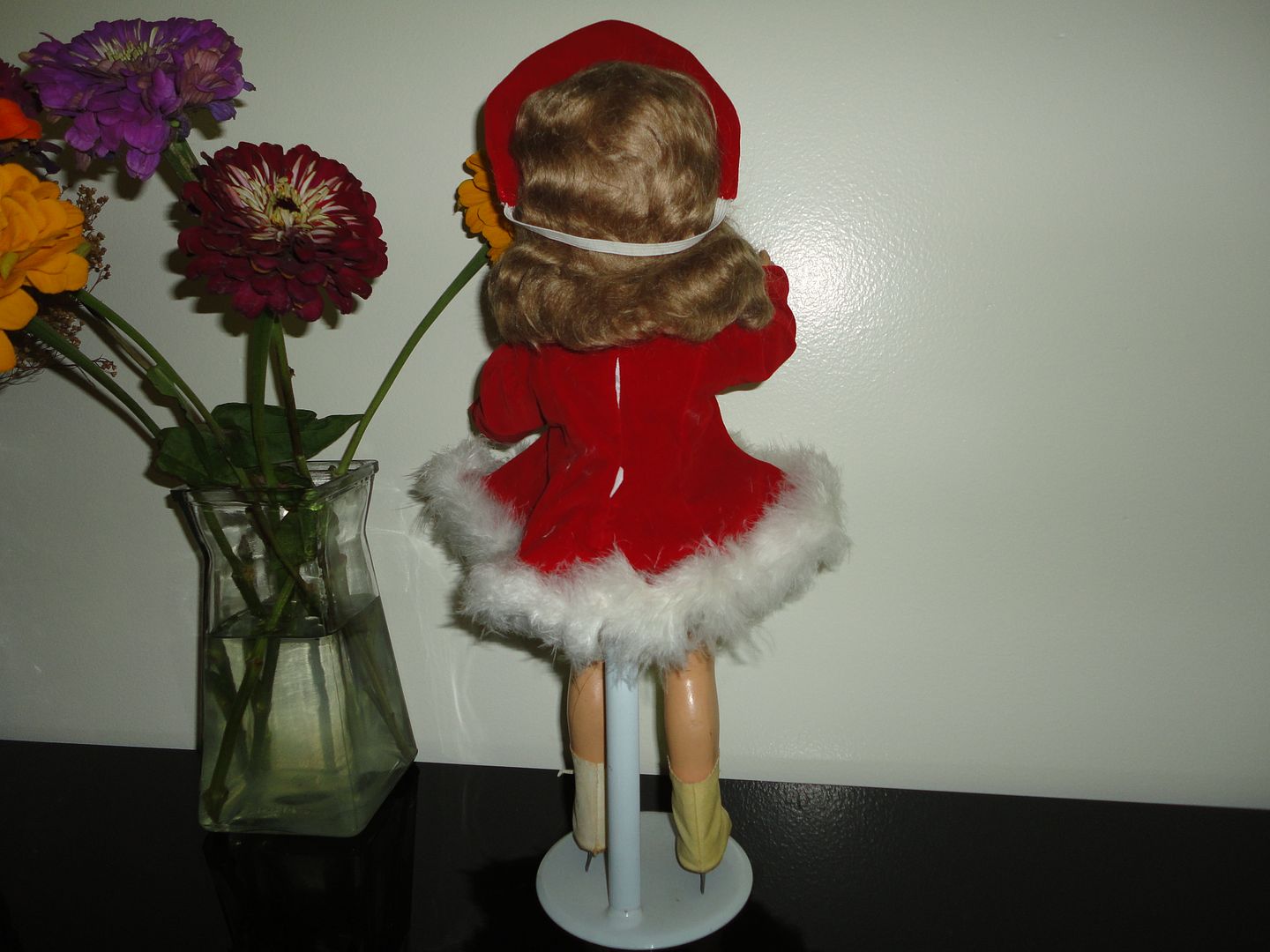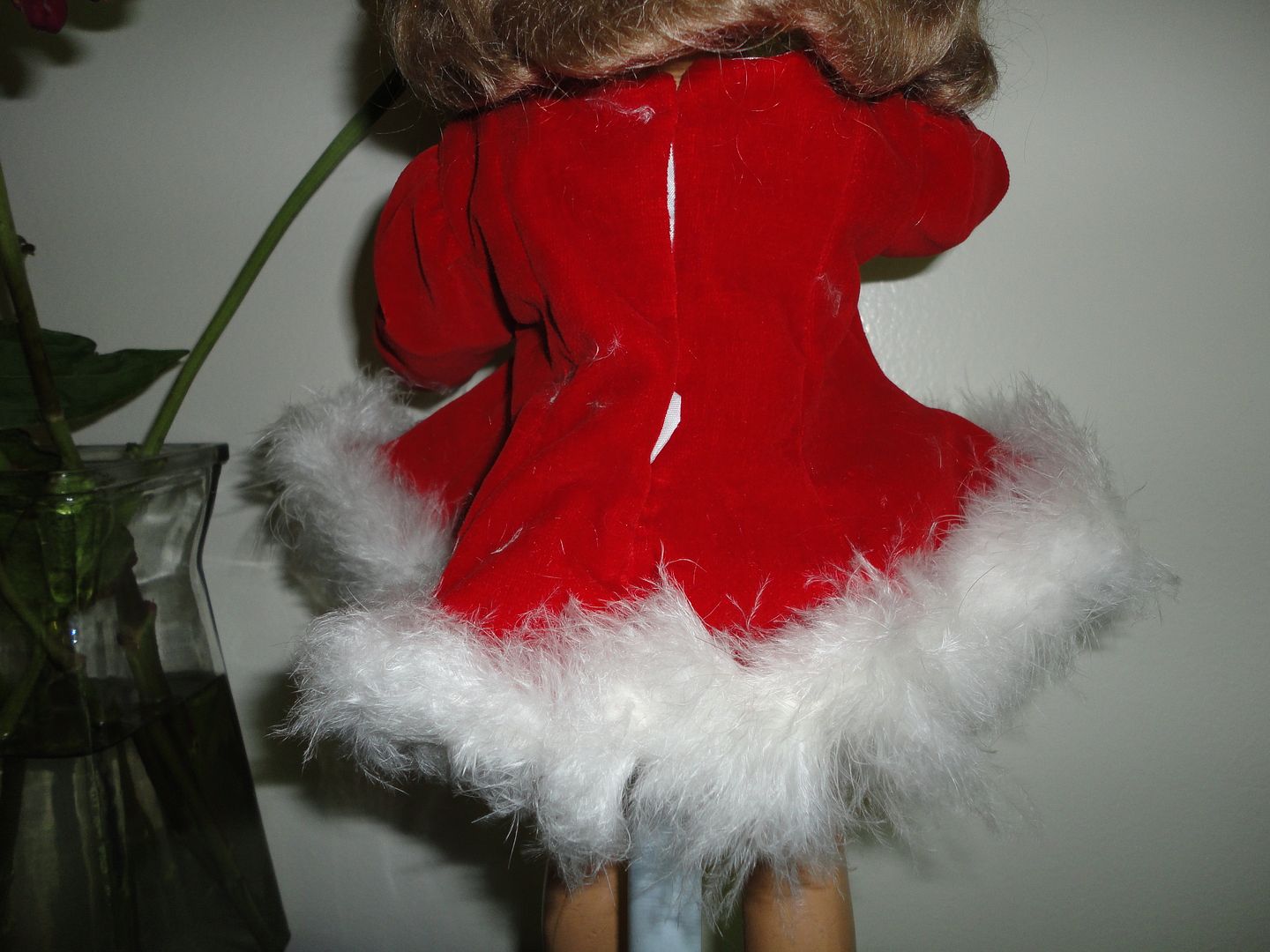 Available in the Simpsons Christmas Catalogue 1950
Barbara Ann Scott Doll  
Reliable Toy Co. Canada  
The Reliable Toy Company of Toronto  
15 inches tall  
She is wearing all original red velvet clothing with feather trim 
and original skates  
All of her fingers are intact with a bit of wear on the end of two 
No damage to teeth   
Her eyes open and close good 
Eyes in good condition  
Eyelashes good  
Because she is composition there are just a few cracks 
Her joints are very secure   
Her body is good and is heavy weighted 
Original wig is good  
Her markings have faded and all i see is ADA left over from CANADA 
on the back of her head 
Skates are worn from age ( Only one original lace ) 
**We have not touched or altered the doll in any way   
We are selling her exactly as she was found    
A real treasure of a doll  
She comes with a stand 
 It is a 'composition' doll, made of a mixture of glue and sawdust, 
 which created a more durable material than bisque (or porcelain). 
 The doll has a moveable head, arms, and legs. 
 She has sleeping eyes, an open smiling mouth with porcelain teeth 
Barbara Ann Scott  
"Barbara Ann Scott was born in Ottawa, Ontario, on May 9, 1928  
Her first skating assignment came when she was 6 years old 
 and she skated as Raggedy Ann in the Ottawa Skating Carnival. 
 In the following years, 
she won many championships, culminating in the 1948 Olympic gold medal. 
 In 1942, Barbara Ann Scott of Ottawa became the first female figure skater 
to land a double lutz jump in competition  
From 1948-1954, the company produced the Barbara Ann Scott doll in her skating outfit. 
She was also a very popular doll. 
At one time, almost every little Canadian girl had her on her Christmas list. 
The composition Barbara Ann Scott skating doll was 15" tall. 
In later years the Reliable Toy Company would become famous for its plastic toys, 
but the Barbara Ann Scott doll continued to be made of composition. 
The Barbara Ann Scott Doll, made after her 
1948 Winter Games triumph at St. Moritz, Switzerland, 
remains a prized possession of admirers and collectors alike. 
She was honorary chair of the 2006 world championships in Calgary 
and her autograph was the most coveted by fans of the sport during her visit" 
Reliable Toy Company of Toronto 
"In business since 1920 under the ownership of Alex Samuels, 
Reliable was the largest toy manufacturer in the British empire 
and had become famous for its many different dolls. 
Its most famous doll was the Shirley Temple doll for which 
Reliable held the Canadian license. 
Reliable manufactured composition Shirley Temples in many sizes in the 1930s. 
The company was famous for its attention to detail and its quality products" 
** Please feel free to browse our Shoppe for our other Barbara Ann Scott doll  
in her original peach outfit 
Also browse for our Ideal Shirley Temple Doll  
*JS Photography props are not included in the sale
For Many Years We Supply Vintage, Antiques
Rare Collectibles & One of a Kind Irreplaceable Items

We never alter, repair or replace any of the features
on our items as we like to leave them
in the original condition for our collectors
We feel replacing them with anything from a different era
makes them no longer original or authentic

All of our items are heavily researched for hours by our staff  
With a massive library of Collectors Identification Guides & Books, Magazines
 and Internet research
Everything we can find that pertains to that particular item
 we then type in the description

We do our utmost to correctly identify and price all of our items accordingly

We work to take as many photographs as possible
to help show the buyer in detail what they are purchasing

The items are then carefully packaged and put into a storage facility
where they are not removed until purchased and shipped


Buy with Confidence from One of the Worlds
Top Trusted Sellers of Vintage & Retired Bears and Collectible Items 


All rights reserved  © Jadees Antique Bear Shoppe
All text, graphics, images, templates are copyrighted
by JSPhotos & Jadees Antique Bear Shoppe

Those should not be duplicated, copied, used
or modified in any way without our permission

All graphics and logo's from brand names are copyrighted
by their rightful owners and are used with permission.

We accept all major credit cards and bank payments through
PAYPAL
We Ship Worldwide

All items with item location CANADA
Will be shipped by Canada Post

All items with item location NETHERLANDS
Will be shipped by PostNL Netherlands

If you wish to combine shipping with another item
from our NETHERLANDS or CANADIAN Shoppe
Please check the store locations

Items purchased from different store locations
are Not Eligible for combined shipping
and will be shipped in separate parcels

If your items are purchased from the same location
we are happy to combine shipping for you

Please note that the additional item(s) must be purchased
within a 24 hour deadline
so that they may be packaged together


"Blessed shall be thy basket and thy store"
Deuteronomy (ch. XXVIII, v. 5)