Victorian Art My First Sermon by Sir John Everett Millais Bt Girl with Red Cape
Sorry, this item is out of stock
Victorian Art
My First Sermon by Sir John Everett Millais Bt
Little  Girl Effie with Red Cape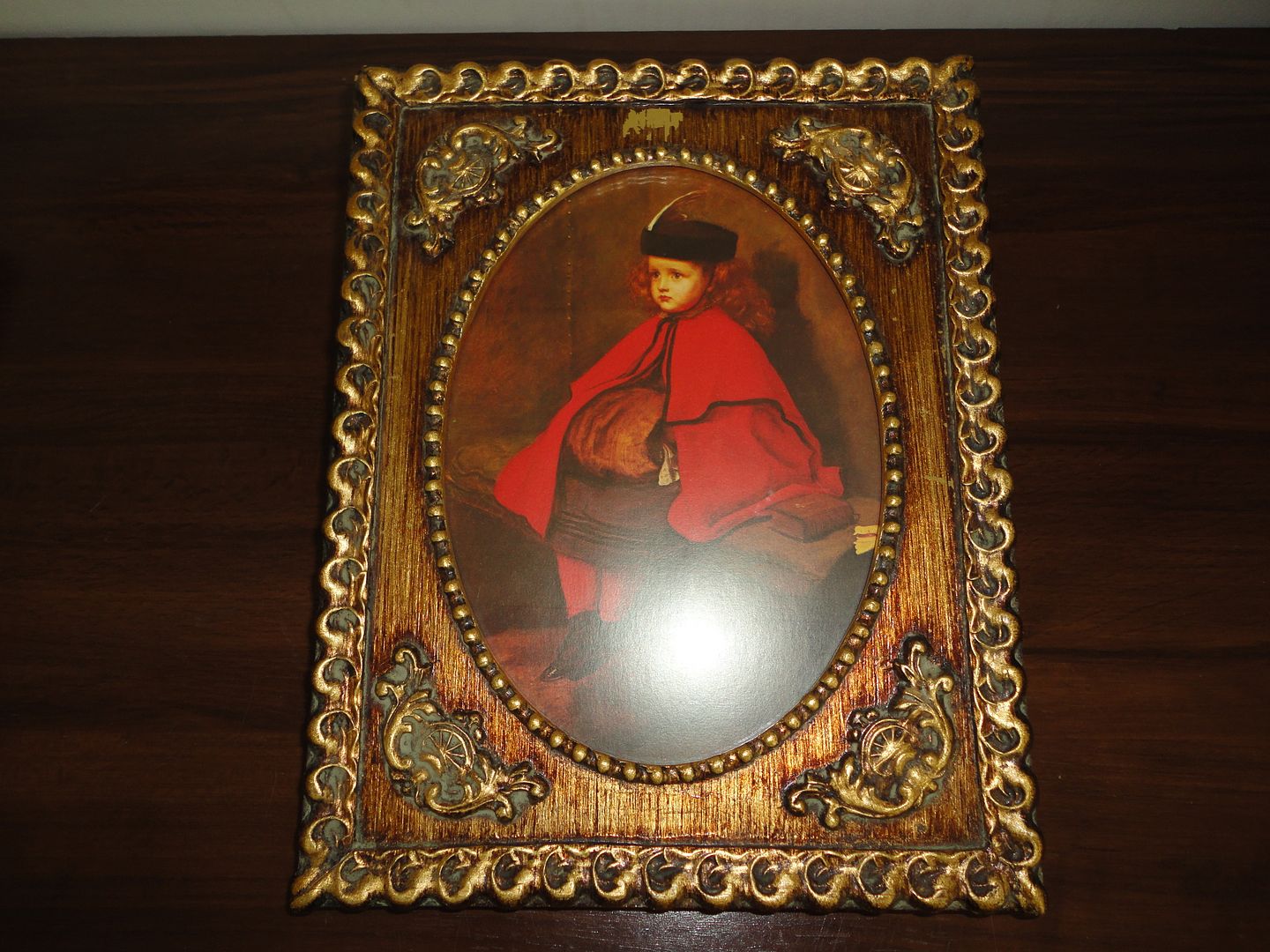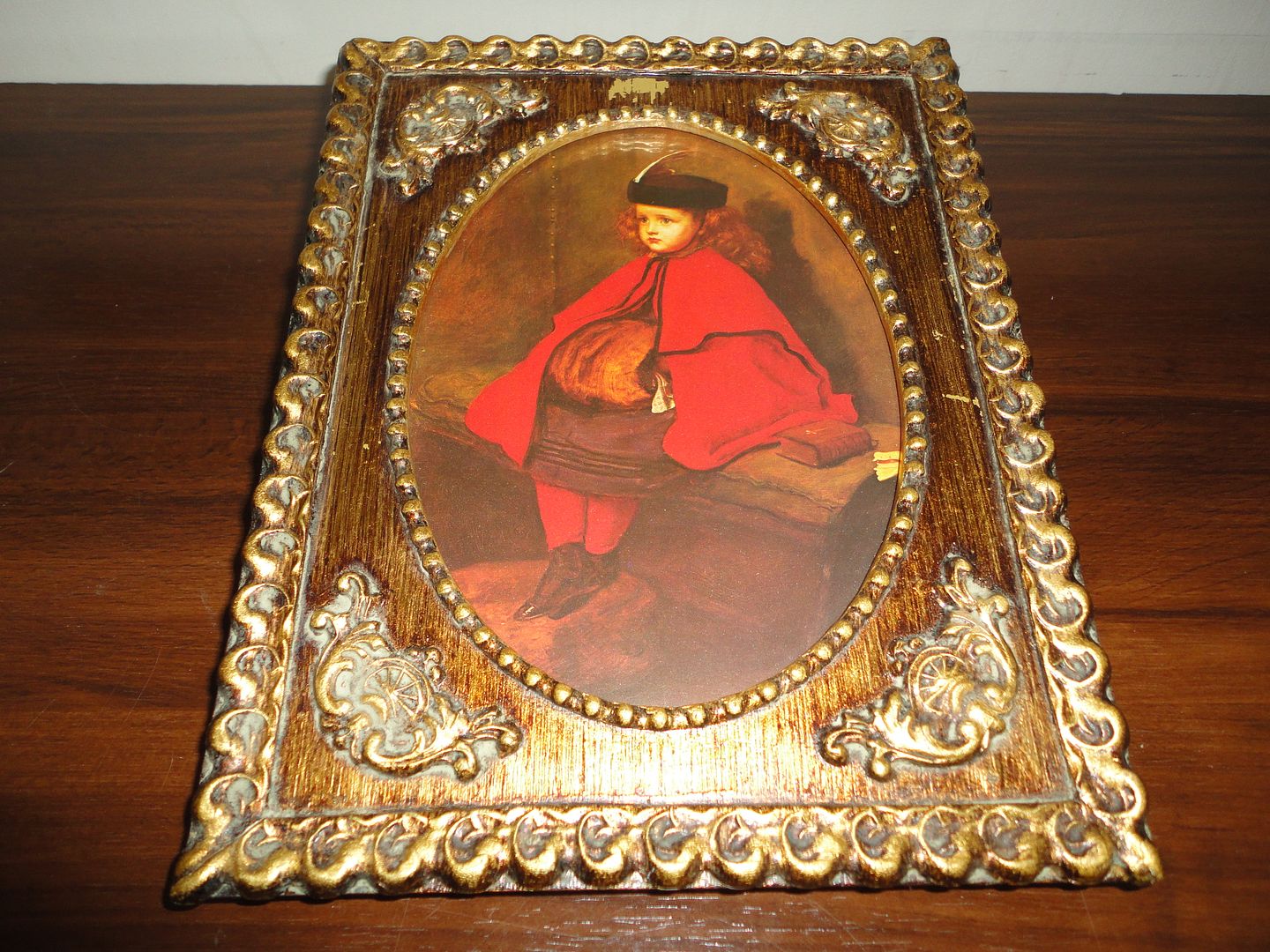 Victorian Art My First Sermon by Sir John Everett Millais Bt  Girl with Red Cape 
Really Gorgeous Artwork 
Vintage / Antique  

Print of a Little Girl named Effie sitting on a padded bench seat 
She is wearing a velvet hat with a feather 
that straps under her chin 
Also wearing a red cape coat with black trim 
A fur hand warmer keeps her warm while she waits 
She has red leggings and antique leather boots 
Beside her on the bench is a bible 

Print size is 6.75 x 4.75 inch 
Total including frame 9.5 x 7 inch 
Very ornate wooden frame ( minor wear )
Oval glass to protect the print
Wire in back all ready for hanging 
** Please note we have another print with this cute girl asleep which is called My Second Sermon for sale in our Shoppe
Please feel free to browse our Art Section

Shop from a World Top Seller bringing our customers their favorite
collectibles in 9 shoppes worldwide 
About the painting courtesy of  Victorian Web 
https://www.victorianweb.org/painting/millais/paintings/43.html
My First Sermon
Sir John Everett Millais Bt PRA (1829-96)
1863
Original is an Oil on canvas
92 x 77cm
Guildhall Art Gallery (701)
Bequeathed by Charles Gassiot, 1902
This painting, together with the one Millais painted of the same child's second sermon, was one of his most admired. 
Related Material
My Second Sermon
Illustration of All Saints Church at Kingston-on-Thames, Surrey (where the picture was painted)
Ideas of Childhood in Victorian Children's Fiction: The Child as Innocent
Reproduced courtesy of the Corporation of London
My First Sermon was exhibited in 1863 at the Royal Academy, and at the Academy banquet on 3 May the Archbishop of Canterbury is reported to have said, "Art has, and ever will have, a high and noble mission to fulfil.... we feel ourselves the better and the happier when our hearts are enlarged as we sympathise with the joys and the sorrows of our fellow-men, faithfully delineated on the canvas; when our spirits are touched by the playfulness, the innocence, the purity, and may I not add (pointing to Millais' picture of My First Sermon) the piety of childhood (qtd. in Millais 378). Millais' son and first biographer continues:
This little picture of Effie was extremely popular. The artist himself was so pleased with it that, before going North in August of that year, he made an oil copy of it, doing the work from start to finish in two days! A truly marvellous achievement, considering that the copy displayed almost the same high finish as the original; but in those two days he worked incessantly from morning to night, never even breaking off for lunch in the middle of the day. Well might he say, as he did in a letter to my mother, "I never did anything in my life so well or so quickly." The copy was sold as soon as it was finished, and I see from an entry in my mother's book that he received £180 for it.
John Guille Millais adds in a footnote that the pictures were painted in the old church at Kingston-on-Thames, were Millais' parents lived, before the "old highbacked pews" had been removed." He continues by explaining that his father "was now, so far as I can judge, at the summit of his powers in point of both physical strength and technical skill, the force and rapidity of his execution being simply amazing" (378).
Millais was evidently fond of children, particularly, of course, his own. Effie was often used as his model. He had already painted children — for example in The Woodsman's Daughter (1850-51), but this painting marks the first of several well-known ones in which one child is the centre of attention (see Fleming 224). It makes its mark by showing the child in her red cape, with black trim, and soft furry muff, a bright splash of colour in the dim church, her short legs in their red stockings supported for her, concentrating as hard and seriously as she can on the sermon. The poignancy comes from guessing it is all really over her head. Perhaps there is a touch of humour, too, which will be more apparent in its later companion piece, My Second Sermon, when she has given up trying to concentrate and has fallen asleep! Other examples of paintings of Millais's affectionate dwelling on a single child subject are Bubbles (1865-6) and, much later, Little Speedwell's Darling Blue (1891-92). — Jacqueline Banerjee
**Antique and Vintage items by their very nature may show
normal to extreme wear and/or miscellaneous faults
due to age and use.
As we define the condition that is relative to
the stated age of the piece,
we would expect to see some 'character marks'
consistent with the age

*JS Photography props are not included in the sale 


For Many Years We Supply Vintage, Antiques
Rare Collectibles & One of a Kind Irreplaceable Items
We never alter, repair or replace any of the features
on our bears & animals as we like to leave them
in the original condition for our collectors
We feel replacing them with anything from a different era
makes them no longer original or authentic
All of our bears are heavily researched for hours by our staff
with a massive library of Bear Collectors Identification Guides & Books
Bear magazines and Internet research
Everything we can find that pertains to that particular bear we then type in the description
We do our utmost to correctly identify and price all of our items accordingly.
Professional photographers work to take as many pictures as possible
to help show the buyer what they are purchasing.
The bears are then carefully packaged and put into storage
where they are not removed until purchased and shipped.
Buy with Confidence from One of the Worlds
Top Trusted Sellers of Vintage & Retired Bears
All rights reserved © Jadees Antique Bear Shoppe
All text, graphics, images, templates are copyrighted
by JSPhotos & Jadees Antique Bear Shoppe
Those should not be duplicated, copied, used
or modified in any way without our permission.
All graphics and logo's from brand names are copyrighted
by their rightful owners and are used with permission.
See my other listings
for more great items!
We accept all major credit cards and bank payments through Paypal

We Ship Worldwide
All items with item location CANADA
Will be shipped by Canada Post
All items with item location NETHERLANDS
Will be shipped by TNT Post Netherlands
If you wish to combine shipping with another item
from our NETHERLANDS or CANADIAN Shoppe
Please check the store locations
Items purchased from different store locations
are Not Eligible for combined shipping
and will be shipped in separate parcels
If your items are purchased from the same location
we are happy to combine shipping for you
Please note that the additional item(s) must be purchased
within the 3 day deadline
so that they may be packaged together
International Buyers – Please Note:

Import duties, taxes, and charges are not included
in the item price or shipping cost.
These charges are the buyer's responsibility.

Please check with your country's customs office to determine
what these additional costs will be prior to bidding or buying.

Customs fees are normally charged by the shipping company
or collected when you pick the item up.
These fees are not additional shipping charges.

We cannot under-value merchandise
or mark the item as a gift on customs forms.

Doing that is against international laws
and the correct cost of the item is required
if an insurance claim needs to be filed.

If an insurance claim is required at TnT or Canada Post
we will be asked for the correct sold price and our shoppe identification
therefore we cannot mark it as a gift.

"Blessed shall be thy basket and thy store"
Deuteronomy (ch. XXVIII, v. 5)
txzj pxzj28637 txzj5 txzj85