Antique Original German Kestner Doll Flirt Eyes Two Teeth 38cm - 15 inch Marked
Antique Original German Kestner Doll Flirt Eyes Two Teeth 38cm - 15 inch Marked 133 12/0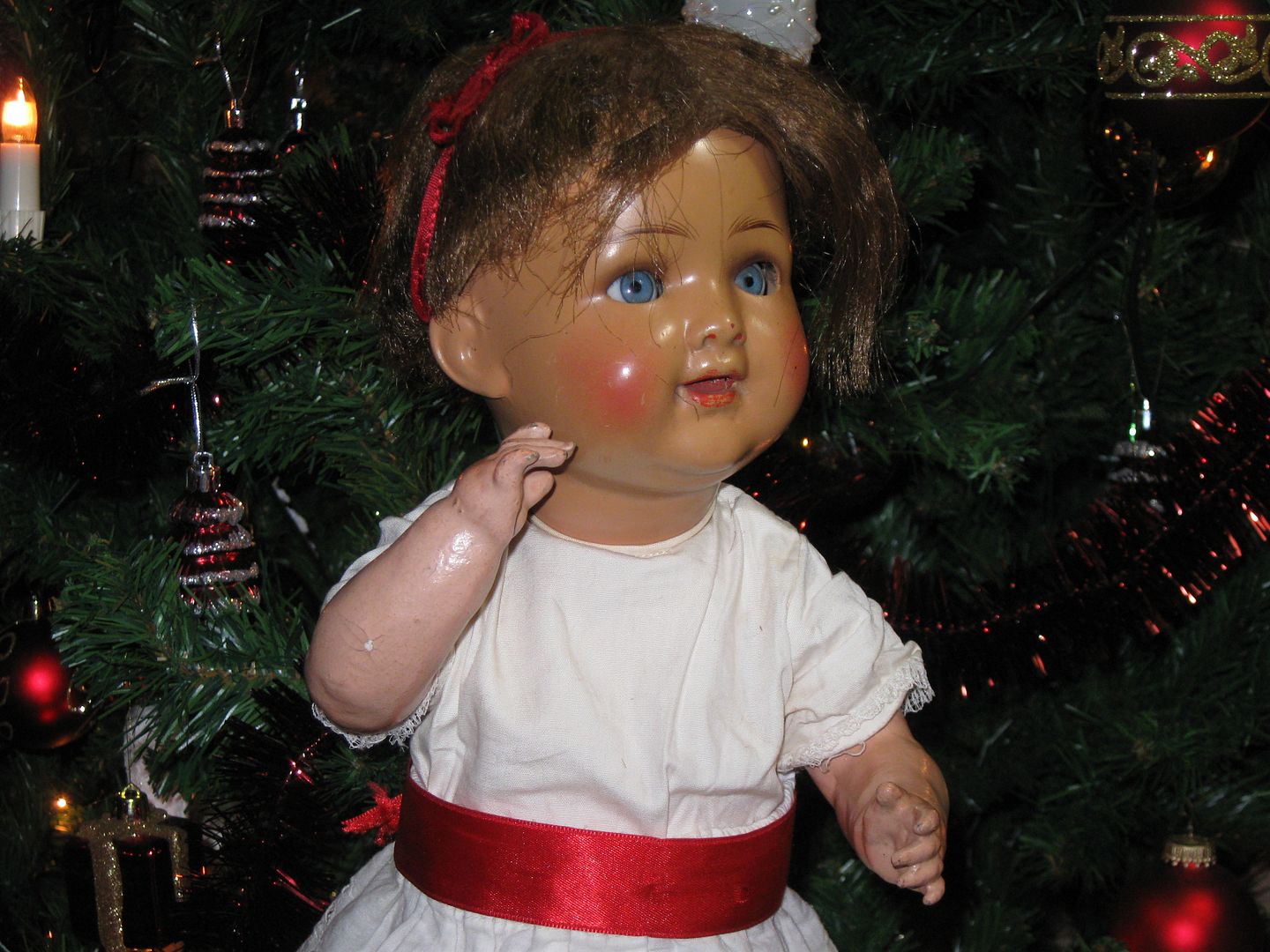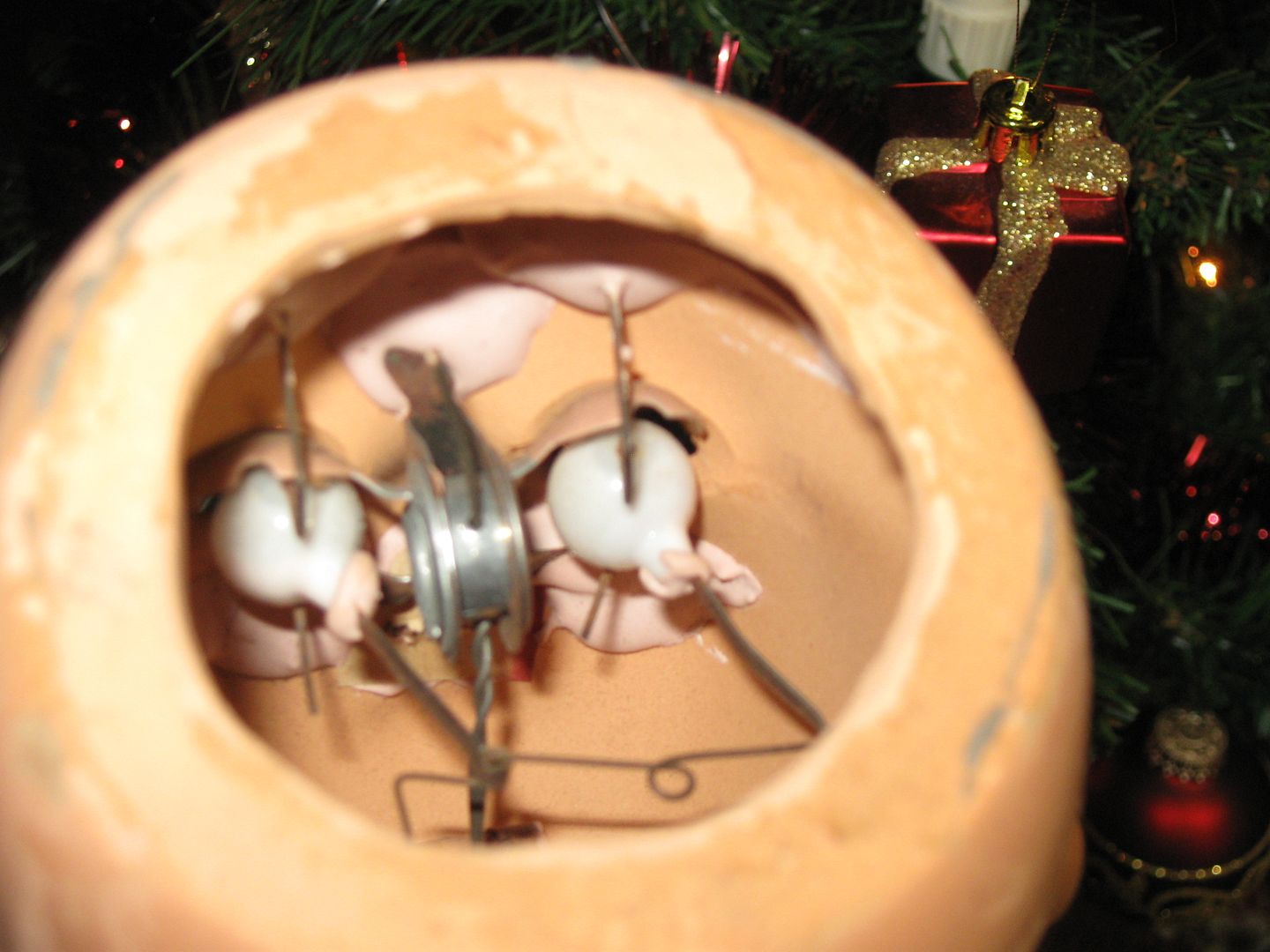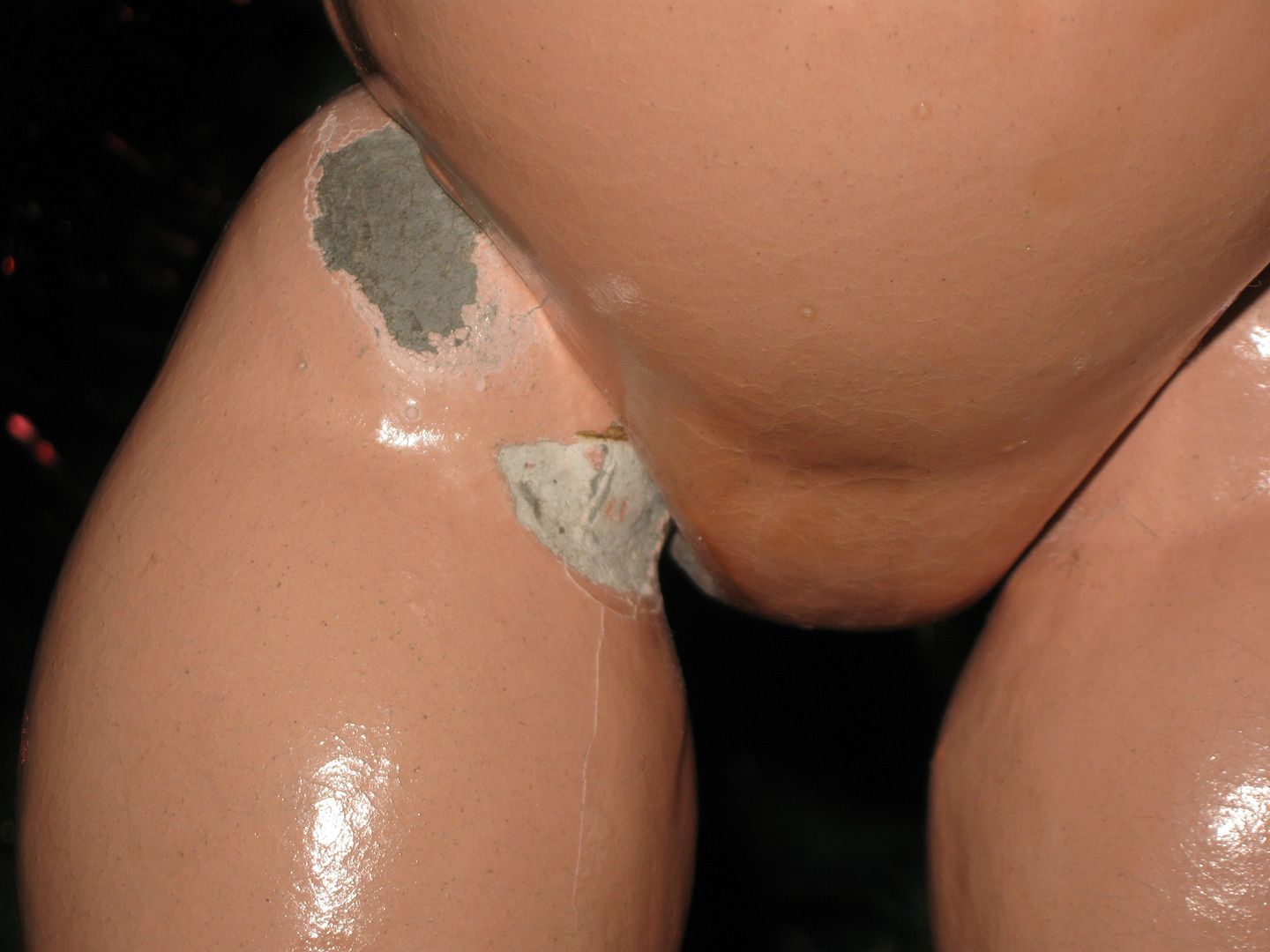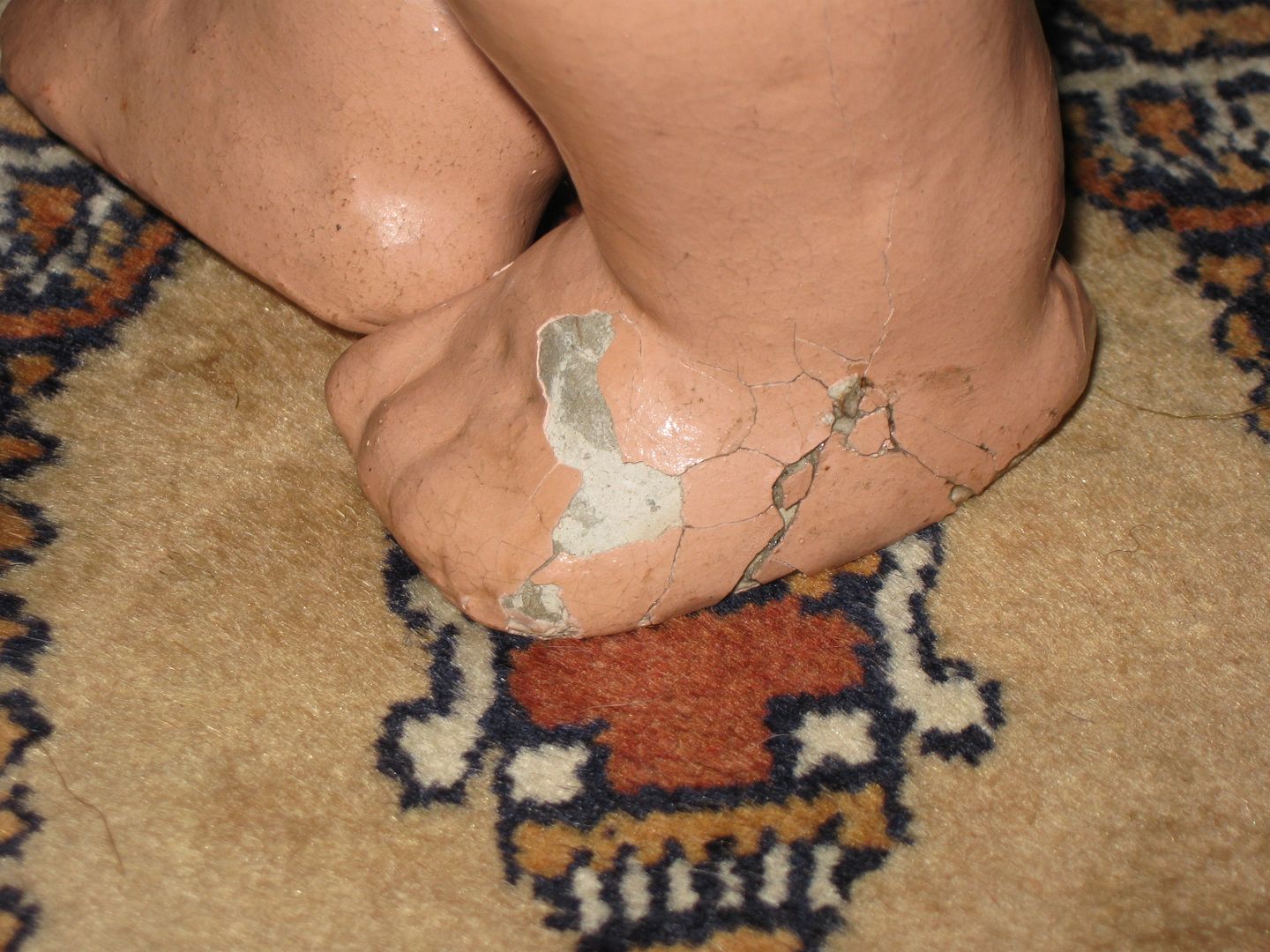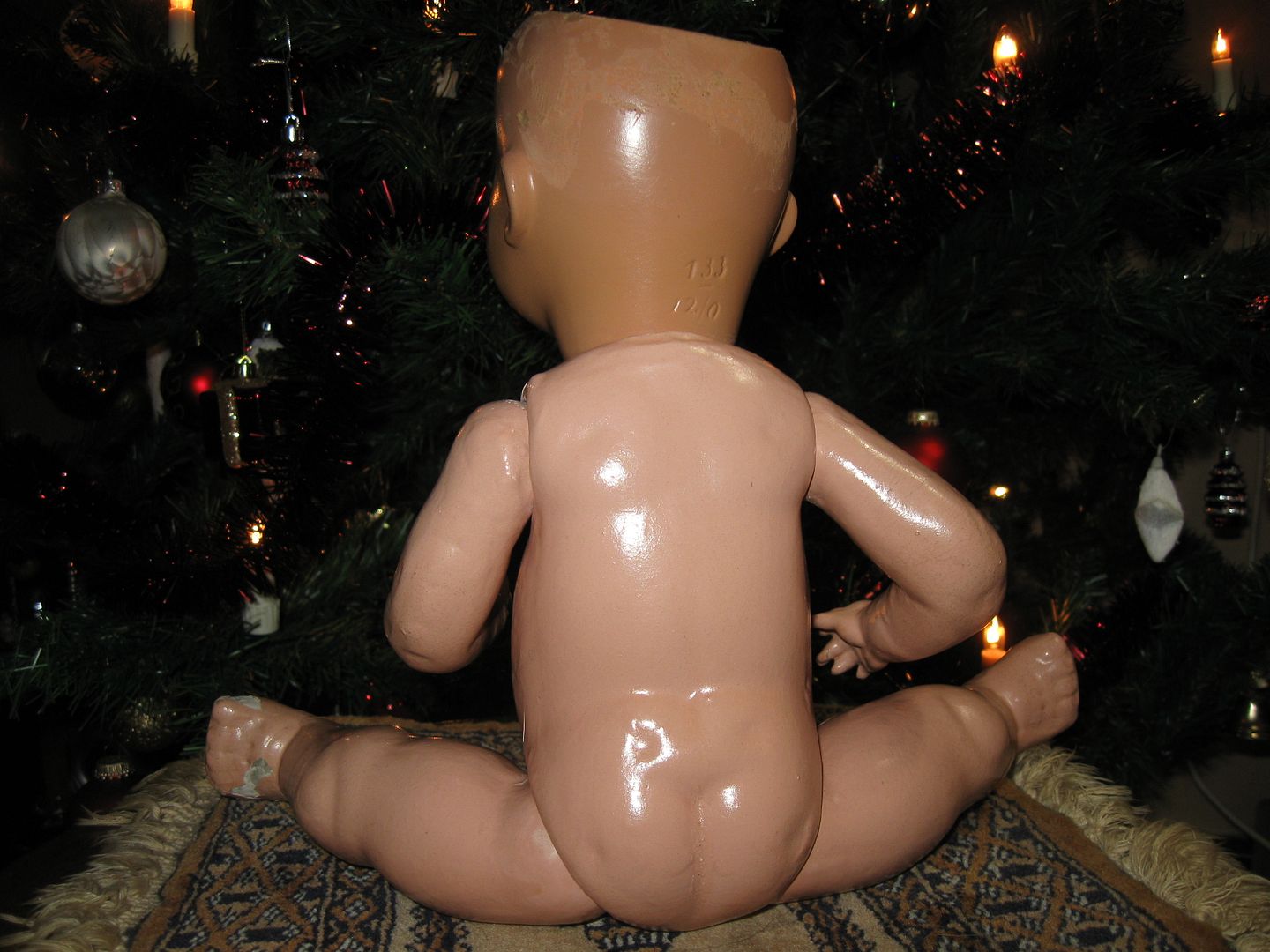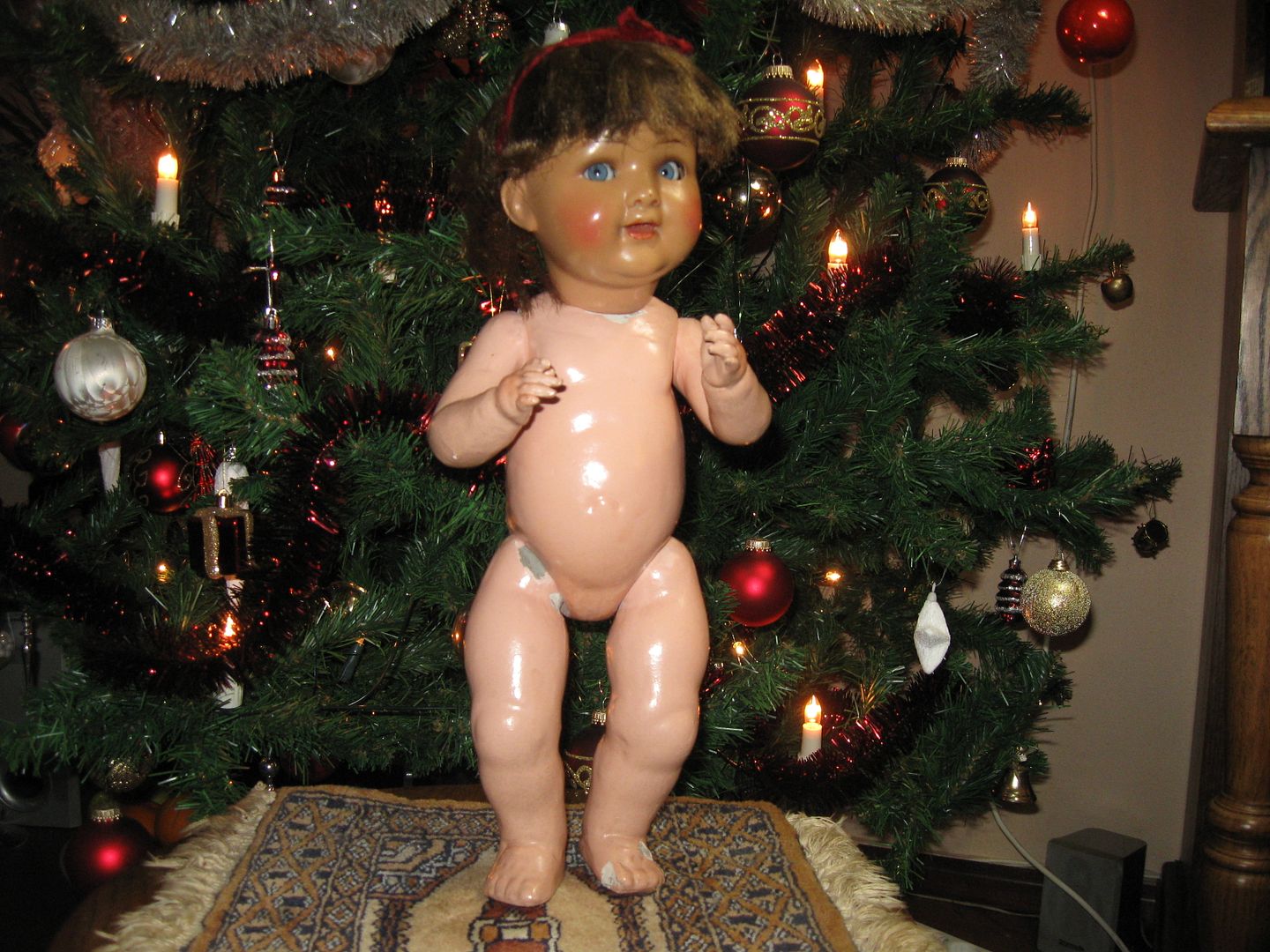 Really a pleasure to be able to bring this doll 
to collectors from our latest trip to Europe 
We have been visiting several European cities 
to find dolls and purchase antique dolls for the Shoppe 
We have a sweet girl doll of porcelain or stoneware ? 
Not sure of what she is made of
Nice bright blue glass eyes and a tanned complexion on her head 
She comes with an antique wig which as you can see has a lot of wear 
and a skirt with antique cotton  
The under skirt has some stains 
but with another skirt over it you do not see much of it 
She is a beautiful showcase doll with her 38 cm - 15 inch in height 
She has a standing body which is also nice 
She been made in Germany in the 1920s 
Her creator is a bit of a mystery and we leave this to the buyer  
She is marked with 133 12/0 , 
a mold number that is attributed to multiple creators 
and we are unsure of her maker 
but she could possibly be one of the following like :
She is in a fairly good condition for her age, 
and her flirtation eyes work well they just close a little stiff 
Her sleepy eyes go a bit heavy and she is missing some eye lashes 
Her head is 7.5 cm / 3 inch 
She has two top teeth that are slightly backwards with no damage 
so you only see them if you her head upwards 
Slight usual wear on her hips
Please view the pictures for any of her wear 
1 foot does have a crack ( see pictures ), 
but with shoes and socks on , you see nothing of it 
Her shoes are not antique but we give them away for free with her 
Her head is a kind of porcelain or stoneware made  
it is slightly discolored ( darkened ) over time 
It seems almost celluloid or turleton from outside but it certainly is not 
it feels and looks from inside out as a kind of tile -like material 
She is 100 % Antique and Not a Reproduction 
We have named her Flirtje 
She is being sold with everything she is wearing 
Please feel free to browse our Shoppe for more Antique Dolls 
We will be bringing in her older sister and more dolls in the near future 
*JS Photography props are not included in the sale
For Many Years We Supply Vintage, Antiques
Rare Collectibles & One of a Kind Irreplaceable Items

We never alter, repair or replace any of the features
on our items as we like to leave them
in the original condition for our collectors
We feel replacing them with anything from a different era
makes them no longer original or authentic

All of our items are heavily researched for hours by our staff  
With a massive library of Collectors Identification Guides & Books, Magazines
 and Internet research
Everything we can find that pertains to that particular item
 we then type in the description

We do our utmost to correctly identify and price all of our items accordingly

We work to take as many photographs as possible
to help show the buyer in detail what they are purchasing

The items are then carefully packaged and put into a storage facility
where they are not removed until purchased and shipped


Buy with Confidence from One of the Worlds
Top Trusted Sellers of Vintage & Retired Bears and Collectible Items 


All rights reserved  © Jadees Antique Bear Shoppe
All text, graphics, images, templates are copyrighted
by JSPhotos & Jadees Antique Bear Shoppe

Those should not be duplicated, copied, used
or modified in any way without our permission

All graphics and logo's from brand names are copyrighted
by their rightful owners and are used with permission.

We accept all major credit cards and bank payments through
PAYPAL
We Ship Worldwide

All items with item location CANADA
Will be shipped by Canada Post

All items with item location NETHERLANDS
Will be shipped by PostNL Netherlands

If you wish to combine shipping with another item
from our NETHERLANDS or CANADIAN Shoppe
Please check the store locations

Items purchased from different store locations
are Not Eligible for combined shipping
and will be shipped in separate parcels

If your items are purchased from the same location
we are happy to combine shipping for you

Please note that the additional item(s) must be purchased
within a 24 hour deadline
so that they may be packaged together


"Blessed shall be thy basket and thy store"
Deuteronomy (ch. XXVIII, v. 5)