Ashton Drake Guthrie Peace Bear Artist Debbi Henretty
Ashton Drake Galleries
Artist Debbi Henretty
" Guthrie "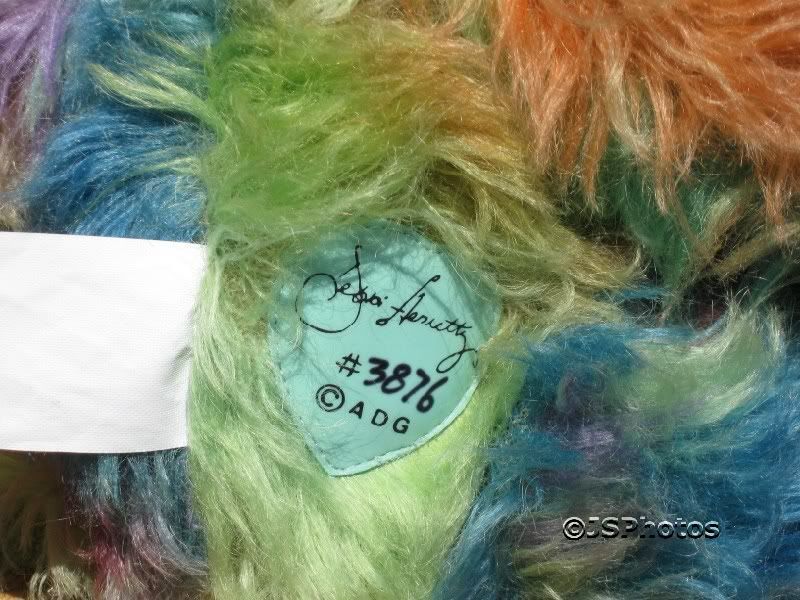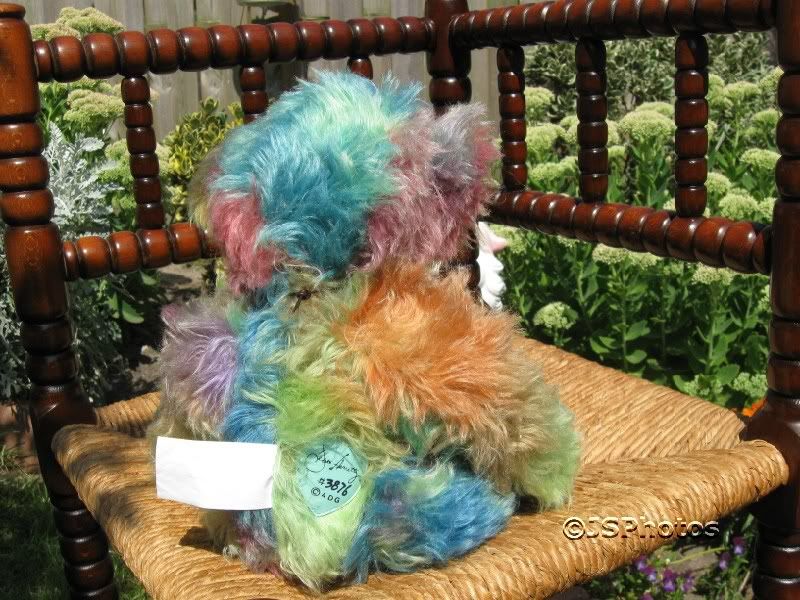 Debbi Henretty
3876

Ashton Drake Bear

Wearing A Peace Pendant

Made of multicolored Plush

5 way jointed

Approx 13 Inch / 33 cm Tall
Meet Guthrie

An artist designed bear by Debbi Henretty
made exclusively for
Ashton Drake Gallery Teddy Bears

Guthrie is handcrafted, hand stitched and highly collectible

This is nr 3876 in the exclusive limited edition of "Guthrie"

You are now the proud owner of "Guthrie" -
The first issue in the Age of A - Bear - ius collection.

One look at "Guthrie" and it's "Shades of the 60's" all over again!

In his "tie dyed" coat with his peace medallion,
he's the grooviest teddy bear you have ever seen!

His bright button eyes show you beneath that colorful coat,
there beats a heart full of teddy bear love,
and of course, peace.

In fact, "Guthrie" is so mellow that he'll put his colorful arms
right around you and give you a psychedelic bear hug
like none other.
Well, what else can you say but .... far out !

"Guthrie" is the inspired work of artist Debbi Henretty,
who created this unique design for you to enjoy
for many years to come.

He will certainly bring a smile when he catches your eye
with his coat of many colors!
New with Certificates

All rights reserved  © Jadees Antique Bear Shoppe
All text, graphics, images, templates are copyrighted
by JSPhotos & Jadees Antique Bear Shoppe

Those should not be duplicated, copied, used
or modified in any way without our permission.

All graphics and logo's from brand names are copyrighted
by their rightful owners and are used with permission.

WE DEAL IN VINTAGE, ANTIQUES, RARE COLLECTIBLES
& ONE OF A KIND IRREPLACEABLE ITEMS

All of our Items are Kept Carefully Sealed in Storage
in a Smoke Free Environment
This item will be shipped Worldwide
by TNT Post Netherlands.
Method used
IPP Airmail Priority Signed For with Tracking. 


"Blessed shall be thy basket and thy store"

Deuteronomy (ch. XXVIII, v. 5)
txzj pxzj13725 txzj19