Beijing 2008 Olympics Mascots 6 Keychain Boxed Set RARE
Beijing 2008 Olympics Mascots 6 Keychain Boxed Set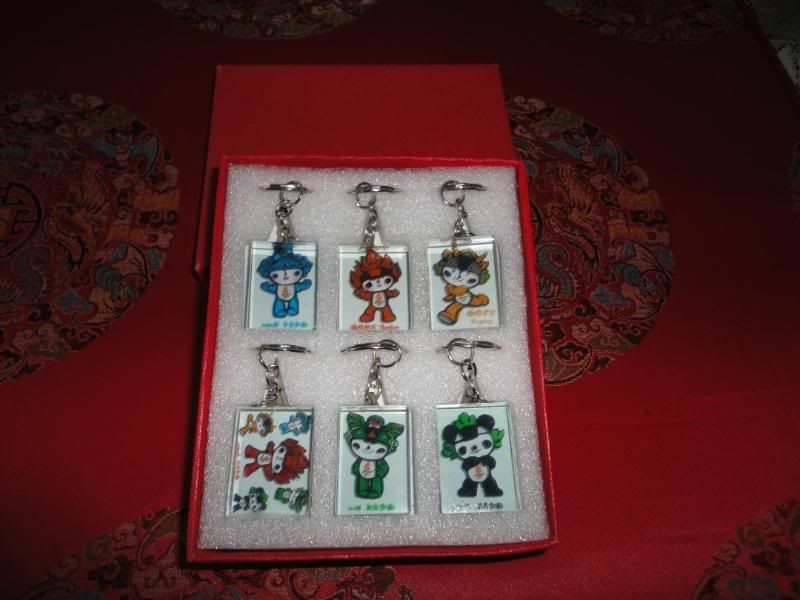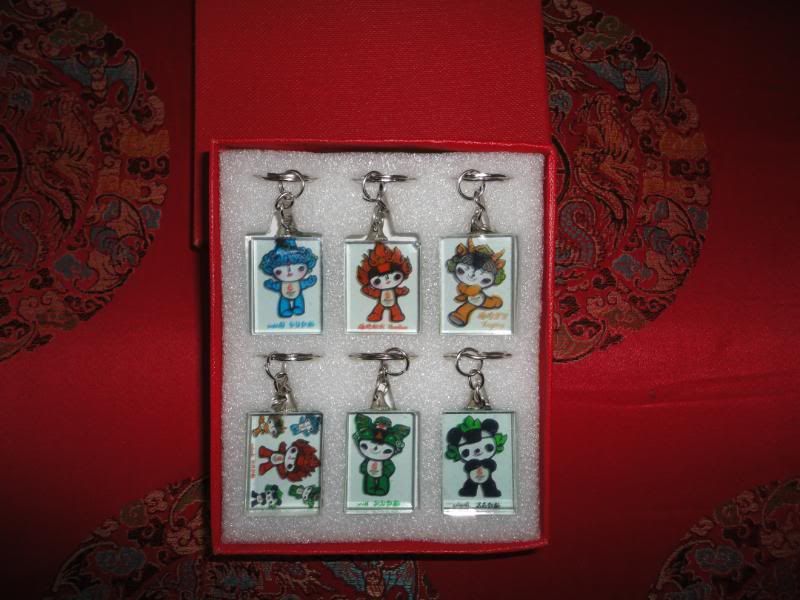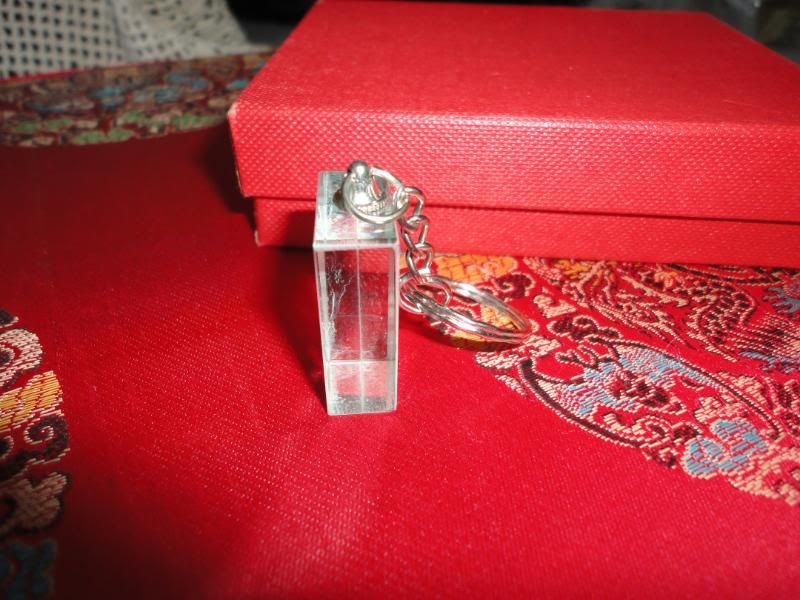 Beijing Olympics Mascots

6 Character Keychain Boxed Set

3" long keychain with character

inside a plastic cube

cube approx 1" x 3/4" x 1/4"

Characters include

Ying Ying Antelope 
Bei Bei Fish 
Huan Huan Torch 
Jing Jing Panda 
Nini Swallow

Final keychain is the 5 mascots together

Set is Brand New

Kept storaged 

Box has minor wear 
A bit of history © wikipedia, all rights reserved

The Fuwa

(Chinese: pinyin: Fúwá; literally "good-luck dolls", also known as "Friendlies"),

were the mascots of the 2008 Summer Olympics in Beijing.

The designs were created by Han Meilin, a famous Chinese artist.

The designs were publicly announced by
the National Society of Chinese Classic Literature Studies
on 11 November 2005 at an event marking the 1000th day
before the opening of the games.

There are five fuwa: Beibei, Jingjing, Huanhuan, Yingying, and Nini.

Together, the names form the sentence  "Beijing huanying ni,"
which means "Beijing welcomes you".

Originally named 'The Friendlies',
they were promoted as 'Fuwa' when there
were concerns the name could be misinterpreted.

*JS Photography props are not included
For Many Years We Supply Vintage, Antiques
Rare Collectibles & One of a Kind Irreplaceable Items

We are very particular and choose only the best
We also make sure they are odor free and from smoke free homes

We never alter, repair or replace any of the features
on our bears & animals as we like to leave them
in the original condition for our collectors
We feel replacing them with anything from a different era
makes them no longer original or authentic

All of our bears are heavily researched for hours by our staff
with a massive library of Bear Collectors Identification Guides & Books
Bear magazines and Internet research
Everything we can find that pertains to that particular bear we then type in the description

We do our utmost to correctly identify and price all of our items accordingly.

Professional photographers work to take as many pictures as possible
to help show the buyer what they are purchasing.

The bears are then carefully packaged and put into storage
where they are not removed until purchased and shipped.


All of our Items are Kept Carefully Sealed in Storage
in a Smoke Free Environment


Buy with Confidence from One of the Worlds
Top Trusted Sellers of Vintage & Retired Bears
We accept all major credit cards and bank payments through Paypal
This item will be shipped Worldwide
by
Canada Post
Method used: Airmail with Insurance


"Blessed shall be thy basket and thy store"


Deuteronomy (ch. XXVIII, v. 5)

Template by the_butler_did_it!_boutique
txzj pxzj12619 txzj89