CN Tower Toronto Canada Tour Universe Space BEAR
SKU: Canada
Sorry, this item is out of stock
CN Tower Toronto Canada Tour Universe BEAR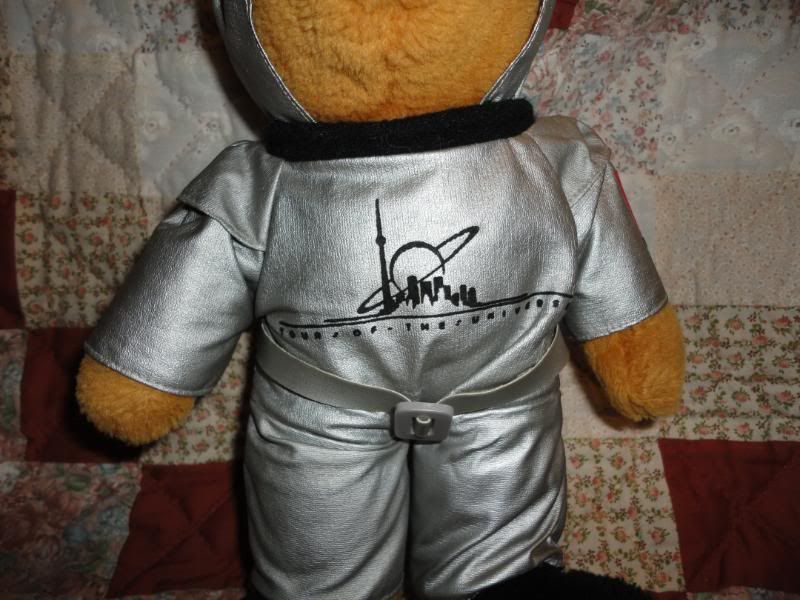 CN TOWER 

Toronto Canada


 

Tour of the Universe Bear


 

11 inches tall


 

Wearing his Space Uniform


Removable


Soft velvet Picture on front


Velvet Canadian Flag  


 

Vintage Very RARE


 

Very minor wear from Age


 

 

A bit of History: 


 

" Tour of the Universe was a space shuttle simulation ride


located in the basement level of the CN Tower

                             The name of the ride, Tour of the Universe,
and its content were adapted from a work of the same name

Construction began in 1984 and the ride began operations in 1986.

It was built by SimEx of Toronto and was the largest
 scale simulation ride at the time.



The ride was supposed to occur in the year 2019
 and carried 40 passengers of the shuttle to Jupiter

after being cleared through a customs area
 in a spaceport deep underneath the tower.



  The shuttle depicted was similar to the US space shuttle,

but instead of a cargo bay the ship had a passenger compartment

The launch pad was located at the base of the tower and arrived at a space station.


The concept lasted until 1990 and later dismantled.


 





*JS Photography props are not included


 





For Many Years We Supply Vintage, Antiques
Rare Collectibles & One of a Kind Irreplaceable Items

We are very particular and choose only the best
We also make sure they are odor free and from smoke free homes

We never alter, repair or replace any of the features
on our bears & animals as we like to leave them
in the original condition for our collectors
We feel replacing them with anything from a different era
makes them no longer original or authentic

All of our bears are heavily researched for hours by our staff
with a massive library of Bear Collectors Identification Guides & Books
Bear magazines and Internet research
Everything we can find that pertains to that particular bear we then type in the description

We do our utmost to correctly identify and price all of our items accordingly.

Professional photographers work to take as many pictures as possible
to help show the buyer what they are purchasing.

The bears are then carefully packaged and put into storage
where they are not removed until purchased and shipped.


All of our Items are Kept Carefully Sealed in Storage
in a Smoke Free Environment


Buy with Confidence from One of the Worlds
Top Trusted Sellers of Vintage & Retired Bears



See my other listings for more great items!
 


We accept all major credit cards and bank payments through Paypal
This item will be shipped Worldwide
by
Canada Post
Method used: Airmail with Insurance


"Blessed shall be thy basket and thy store"


Deuteronomy (ch. XXVIII, v. 5)






 template by melissa

txzj pxzj3435 txzj19