Deans Sullivan Yes No Bear 100% Beige Mohair Artist Designed Barbara Sixby Usa
Deans Sullivan Yes No Bear 100% Beige Mohair Artist Designed Barbara Sixby Usa 14 Inch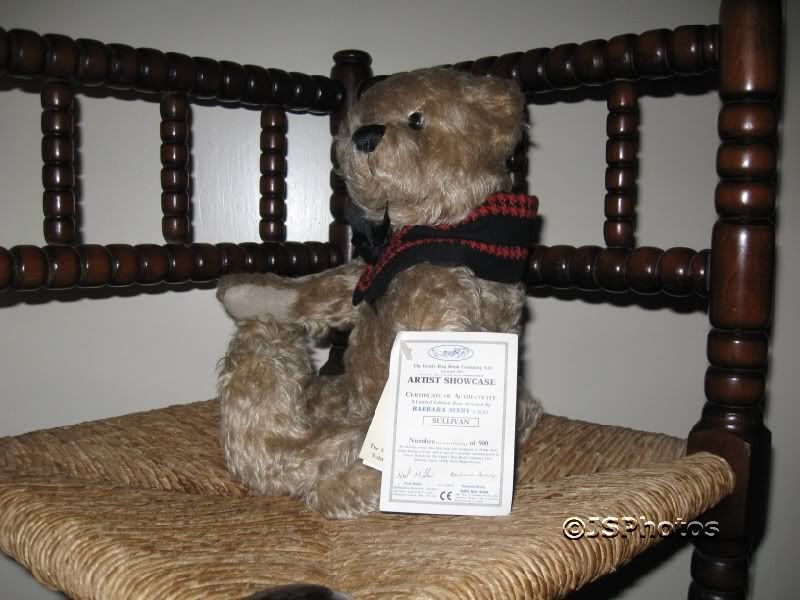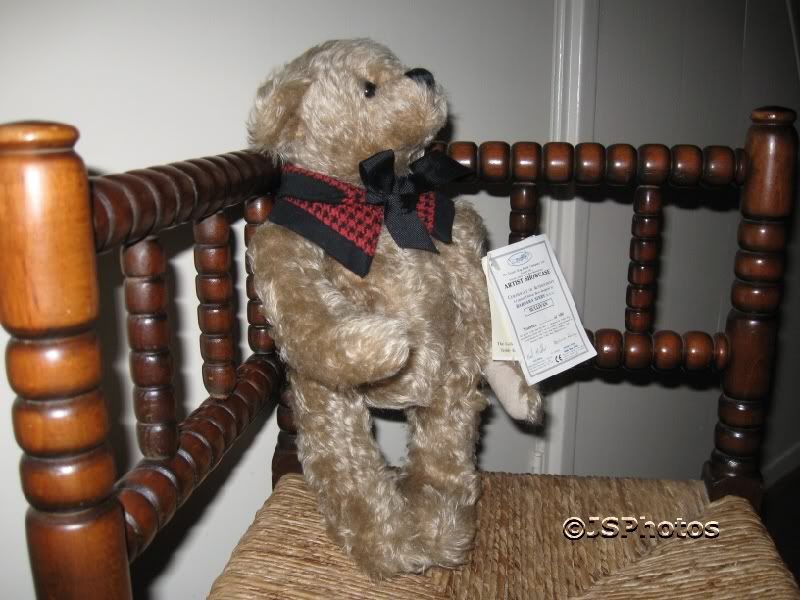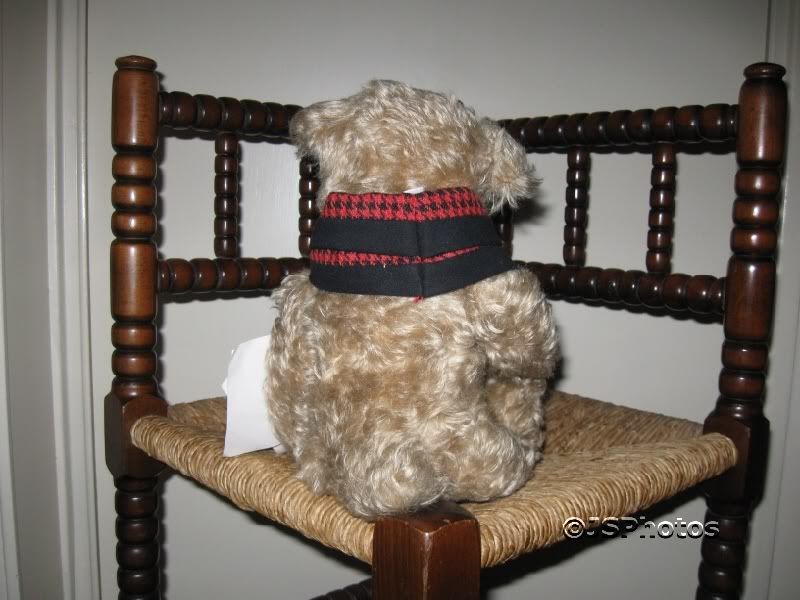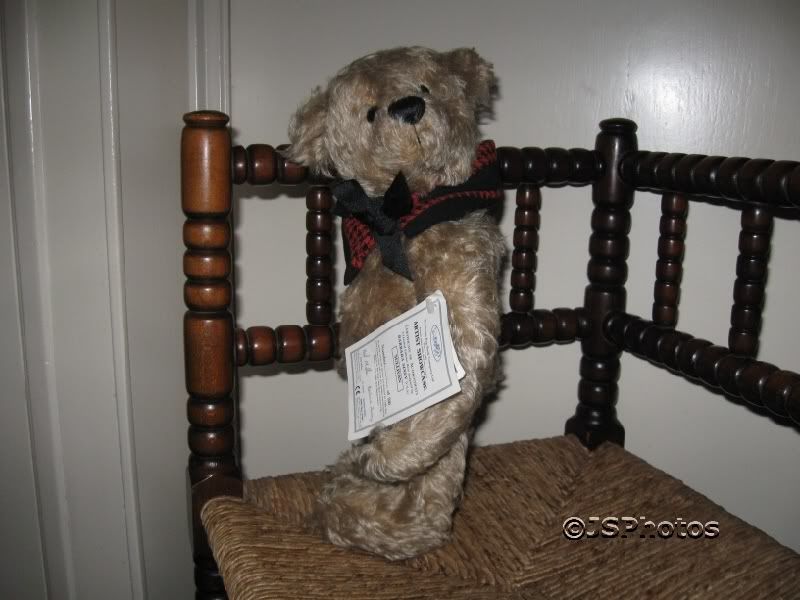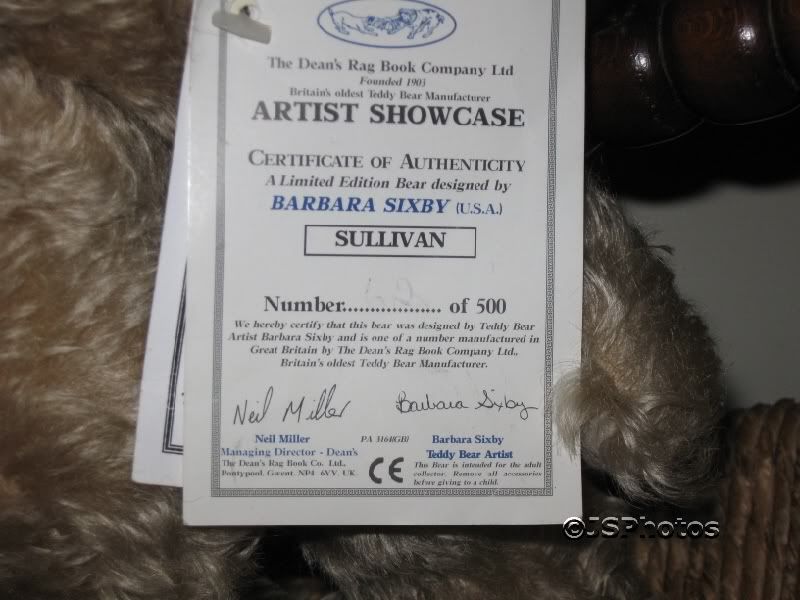 Deans Sullivan Yes No Teddy Bear 
Artist Designed by Barbara Sixby 1997 
A Limited Edition Mohair Bear  
Designed by BARBARA SIXBY (U.S.A.) 
This bear contains a mechanism 
which allows the head to move from side to side and up and down. 
Simply grasp the tail tightly and move positively  
in the required direction gripping the body  
of the bear with the other hand.  
The Dean's Rag Book Co. Ltd., 
Pontypool, Gwent. NP4 6YY Great Britain 
A Limited Edition Mohair Bear 
Designed by Barbara Sixby 
Britain's oldest Teddy Bear Manufacturer
Comes with all Original Tags and Certificate   
36 cm / 14.2 inch standing 
26 cm / 10.2 inch sitting 
*JS Photography props are not included in the sale
For Many Years We Supply Vintage, Antiques
Rare Collectibles & One of a Kind Irreplaceable Items

We never alter, repair or replace any of the features
on our items as we like to leave them
in the original condition for our collectors
We feel replacing them with anything from a different era
makes them no longer original or authentic

All of our items are heavily researched for hours by our staff  
With a massive library of Collectors Identification Guides & Books, Magazines
 and Internet research
Everything we can find that pertains to that particular item
 we then type in the description

We do our utmost to correctly identify and price all of our items accordingly

We work to take as many photographs as possible
to help show the buyer in detail what they are purchasing

The items are then carefully packaged and put into a storage facility
where they are not removed until purchased and shipped


Buy with Confidence from One of the Worlds
Top Trusted Sellers of Vintage & Retired Bears and Collectible Items 


All rights reserved  © Jadees Antique Bear Shoppe
All text, graphics, images, templates are copyrighted
by JSPhotos & Jadees Antique Bear Shoppe

Those should not be duplicated, copied, used
or modified in any way without our permission

All graphics and logo's from brand names are copyrighted
by their rightful owners and are used with permission.

We accept all major credit cards and bank payments through
PAYPAL
We Ship Worldwide

All items with item location CANADA
Will be shipped by Canada Post

All items with item location NETHERLANDS
Will be shipped by PostNL Netherlands

If you wish to combine shipping with another item
from our NETHERLANDS or CANADIAN Shoppe
Please check the store locations

Items purchased from different store locations
are Not Eligible for combined shipping
and will be shipped in separate parcels

If your items are purchased from the same location
we are happy to combine shipping for you

Please note that the additional item(s) must be purchased
within a 24 hour deadline
so that they may be packaged together


"Blessed shall be thy basket and thy store"
Deuteronomy (ch. XXVIII, v. 5)