Derek King Pat Verbeek Nick Kypreos NHLPA Signed Cards
SET OF 3 AUTOGRAPHED PLAYERS CARDS
1. PAT VERBEEK - RW
HARTFORD
UPPER DECK
2. DEREK KING - LW
TORONTO MAPLE LEAFS
PINNACLE - 1998
*Derek spent his first 10 NHL Seasons
with the New York Islanders , where he
donated $100.00 for each goal he scored
for the Big Brothers & Sisters of Long Island.
He was Ontario Rookie of the Year 1985
3. NICK KYPREOS - LW
NEW YORK
UPPER DECK 1995
CARDS READ:
"Congratulations you have received
an Authentic Autographed 1995
NHLPA Be A Player.
This card has been personally signed
by the NHL Player depicted and its
Authenticity is guaranteed by the NHLPA.
To ensure authenticity the NHLPA has
authorized the Upper Deck Company to
stamp this card with a diamond shaped
hologram on the back.
Item was purchased by myself
& was kept storaged
Cards are NEW in CASE
CASE has minor shelf wear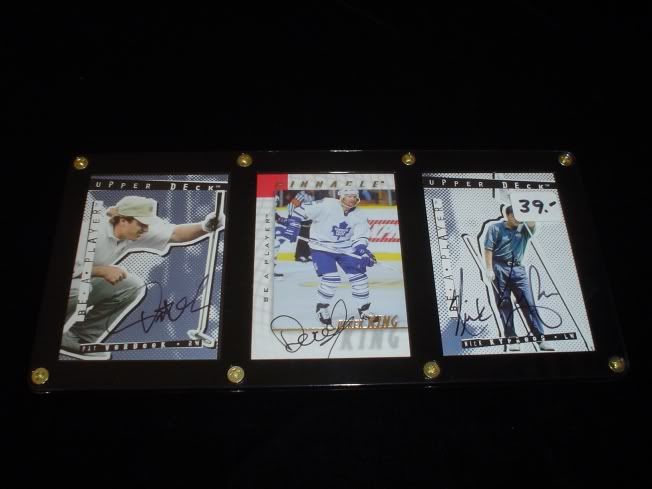 "Blessed shall be thy basket and thy store"

Deuteronomy (ch. XXVIII, v. 5)