Hermann Original Sokrates Bear Mohair Ltd 279 3000 100 Year of Teddy Bears 2002
Hermann Original Sokrates Bear Mohair Ltd 279-3000 100 Year of Teddybears 2002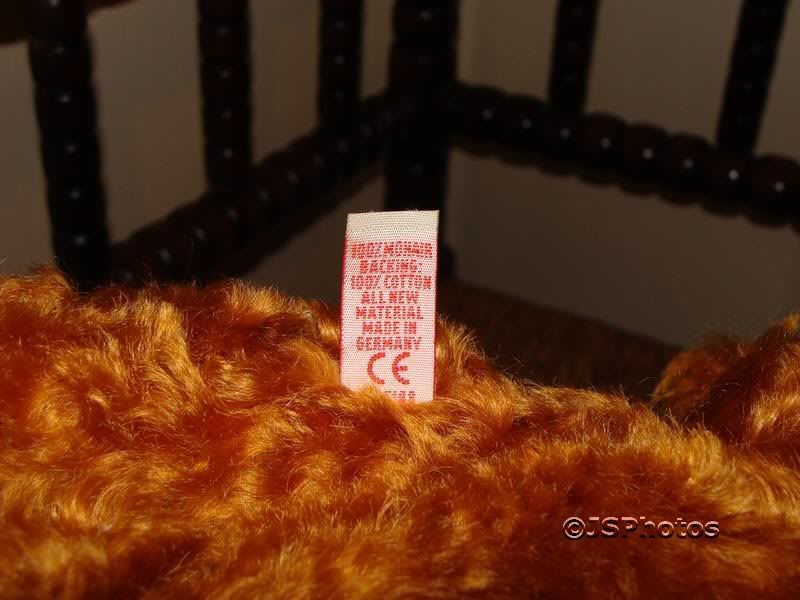 Exclusively made to Celebrate 
Comes with all original Tags & Certificate 
He is 20 cm / 7.9 Inch Sitting 
Very Desirable Bear For Collectors 
Don't Miss Out This One Of A Kind 
Highly Collectible Bear From Hermann Germany 
was manufactured as limited edition  
from high-quality Mohair plush  
by the traditional Plush Toy Factory  
teddy Hermann, Hirschaid in Germany.  
The Teddy bears from Hirschaid  
with the red seal "Hermann teddy original" 
are desired collectibles by bear lovers from all over the world .  
Like at grandfather times  
this Teddy bear is still handfilled,  
which presupposes skillful handling 
funnel and filling iron of only by very experienced Handcrafters. 
The arms and legs are worked on disks and are jointed. 
The lip is hand stitched. 
This bear is personally designed 
by the granddaughter of the firm founder, 
 Mrs. Traudel Misschner-Hermann 
Dieser Teddybär Sokrates wurde als limitierte Edition  
aus hochwertigem Mohairplüsch 
von der traditionstreichen Plushspielwarenfabrik  
Teddy-Hermann, Hirschaid In Deutschland hergestellt.  
Die Teddybären aus Hirschaid mit dem roten Siegel "Hermann Teddy Original"  
sind bei bärenliebhabern aus aller Welt begehrte sammlerobjekte.  
Wie zu Großvaters Zeiten ist der Teddybär noch handgefüllt, 
was den geschickten Umgang mit  
Trichter und Fülleisen von geübten Motarbeitern voraussetzt.  
Die beweglichen Arme und Beine sind auf Scheiben gearbeitet.  
Die Schnauze is handgestickt.  
Für die mustergetreue Ausführung zeichnet unsere Designerin,  
die Enkelin des Firmengründers,  
Frau Traudel Mischner-Hermann persönlich verantwortlich 
Visit Our Store For More Hermann Bears & Animals
*JS Photography props are not included in the sale
For Many Years We Supply Vintage, Antiques
Rare Collectibles & One of a Kind Irreplaceable Items

We never alter, repair or replace any of the features
on our items as we like to leave them
in the original condition for our collectors
We feel replacing them with anything from a different era
makes them no longer original or authentic

All of our items are heavily researched for hours by our staff  
With a massive library of Collectors Identification Guides & Books, Magazines
 and Internet research
Everything we can find that pertains to that particular item
 we then type in the description

We do our utmost to correctly identify and price all of our items accordingly

We work to take as many photographs as possible
to help show the buyer in detail what they are purchasing

The items are then carefully packaged and put into a storage facility
where they are not removed until purchased and shipped


Buy with Confidence from One of the Worlds
Top Trusted Sellers of Vintage & Retired Bears and Collectible Items 


All rights reserved © Jadees Antique Bear Shoppe
All text, graphics, images, templates are copyrighted
by JSPhotos & Jadees Antique Bear Shoppe

Those should not be duplicated, copied, used
or modified in any way without our permission

All graphics and logo's from brand names are copyrighted
by their rightful owners and are used with permission.

We accept all major credit cards and bank payments through
PAYPAL
We Ship Worldwide

All items with item location CANADA
Will be shipped by Canada Post

All items with item location NETHERLANDS
Will be shipped by PostNL Netherlands

If you wish to combine shipping with another item
from our NETHERLANDS or CANADIAN Shoppe
Please check the store locations

Items purchased from different store locations
are Not Eligible for combined shipping
and will be shipped in separate parcels

If your items are purchased from the same location
we are happy to combine shipping for you

Please note that the additional item(s) must be purchased
within a 24 hour deadline
so that they may be packaged together


"Blessed shall be thy basket and thy store"
Deuteronomy (ch. XXVIII, v. 5)