Merrythought Bruno Official RSPCA Bear and Russ Puddles
SKU: Netherlands G10
Sorry, this item is out of stock
Merrythought Bruno Official RSPCA Bear and Russ Puddles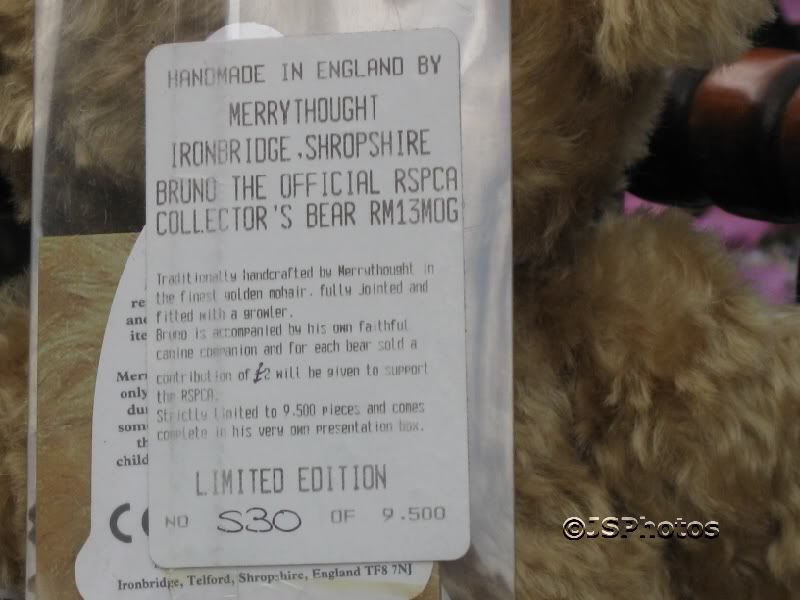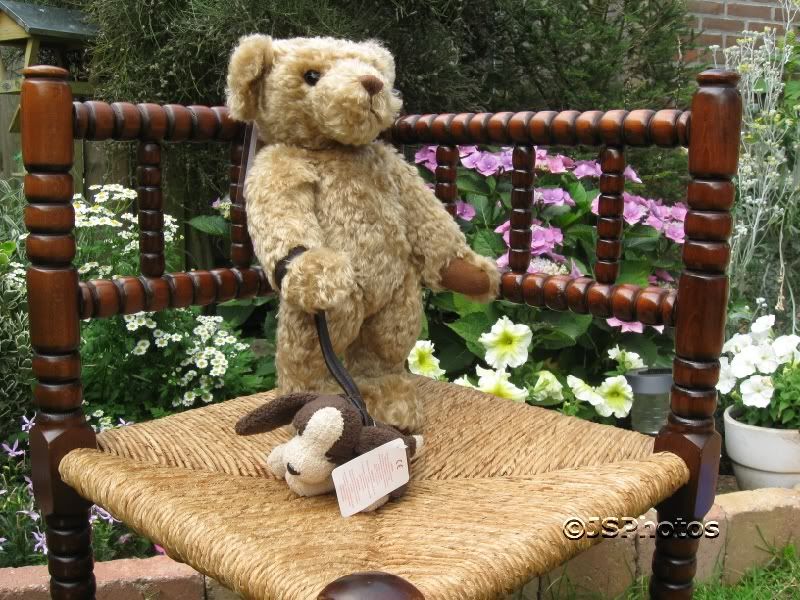 Merrythought Uk 
Bruno the Official Rspca Collect695ors Bear 
With Russ Berrie Puddles
Handmade in England by
Merrythought Ironbridge  Shropshire 
Bruno the Official Rspca Collectors Bear Rm13m0g
Produced Exclusively for Compton & Woodhouse
By Merrythought Ltd.
Traditionally Handcrafted by Merrythought
In the Finest Golden Mohair
Hand Stitched Nose and Mouth
Fully Jointed With Suedette Pads
Fitted With a Growler
Has the Rspca Label Stitched on His Left Foot Pad
Has the Merrythought Label Stitched on His Right Foot Pad
With Hand Sewn Features
This Beautiful Bear Is Issued in a Limited Edition of
9.500 Only and This Is No. 530
Signed by Oliver Holmes & Rinalda Wald
He Measures Approx:
36 Cm / 14 Inch Tall
23 Cm / 9 Inch Sitting
Bruno Is Accompanied by His Own Faithful Companion
Puddles Dog Made by Russ Berrie Uk
Item Nr 23234 0006
Puddles Is Attached With a Leash on the Right Arm of Bruno
Brand New With Certificate
No Presentation Box
All Original Tags
Never Been Played With
Never Been Displayed
Please Browse Our Store for More Rare Merrythought Bears
And Other Uk Collectibles 
*JS Photography props are not included in the sale
For Many Years We Supply Vintage, Antiques
Rare Collectibles & One of a Kind Irreplaceable Items

We never alter, repair or replace any of the features
on our items as we like to leave them
in the original condition for our collectors
We feel replacing them with anything from a different era
makes them no longer original or authentic

All of our items are heavily researched for hours by our staff  
With a massive library of Collectors Identification Guides & Books, Magazines
 and Internet research
Everything we can find that pertains to that particular item
 we then type in the description

We do our utmost to correctly identify and price all of our items accordingly

We work to take as many photographs as possible
to help show the buyer in detail what they are purchasing

The items are then carefully packaged and put into a storage facility
where they are not removed until purchased and shipped


Buy with Confidence from One of the Worlds
Top Trusted Sellers of Vintage & Retired Bears and Collectible Items 


All rights reserved © Jadees Antique Bear Shoppe
All text, graphics, images, templates are copyrighted
by JSPhotos & Jadees Antique Bear Shoppe

Those should not be duplicated, copied, used
or modified in any way without our permission

All graphics and logo's from brand names are copyrighted
by their rightful owners and are used with permission.
We Ship Worldwide

All items with item location CANADA
Will be shipped by Canada Post

All items with item location NETHERLANDS
Will be shipped by PostNL Netherlands

If you wish to combine shipping with another item
from our NETHERLANDS or CANADIAN Shoppe
Please check the store locations

Items purchased from different store locations
are Not Eligible for combined shipping
and will be shipped in separate parcels

If your items are purchased from the same location
we are happy to combine shipping for you

Please note that the additional item(s) must be purchased
within a 24 hour deadline
so that they may be packaged together


"Blessed shall be thy basket and thy store"
Deuteronomy (ch. XXVIII, v. 5)