Rien Poortvliet David the Gnome Figurine Jonathan with Snowman Masterpiece RARE
SKU: NL RPS
Sorry, this item is out of stock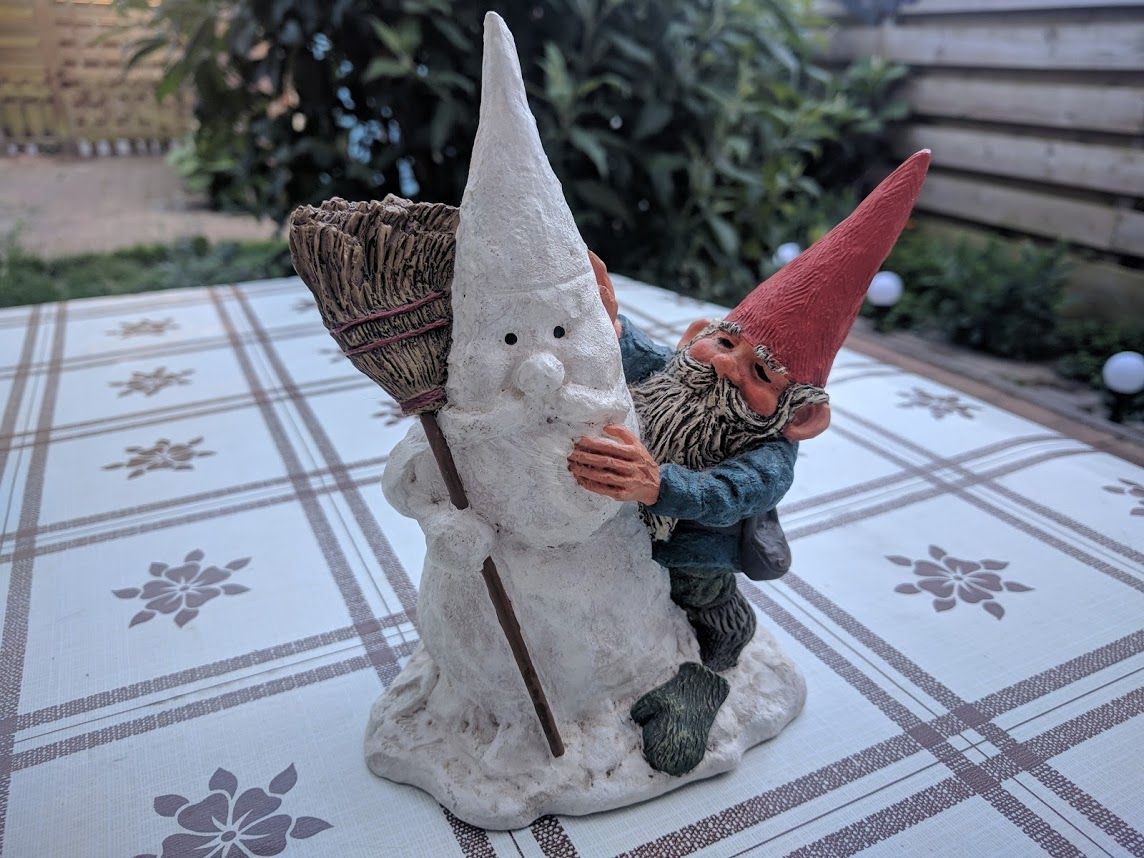 Rien Poortvliet Jonathan with Snowman Masterpiece 339504 Very Rare 
Up for sale 
Gorgeous masterpiece 
Classic Gnomes Collection 
Jonathan 
Licensee 
© AAAAAAA 1994 
by Egbert 
Mpn 339504 
Jonathan is making his own snowman 
Nicely detailed with broom, scarf and mitten
"Jonathan is a humble wood cutter and artist. 
Of fresh snow, straw, coal and wood he has built a self-portrait, which unfortunately will disappear again in the spring. 
It is his way to remind the gnomes of the volatility of life
and the short-lived beauty of nature "
He measures approx 
6 inch - 15 cm high 
5 inch - 13 cm wide 
3 inch - 7.8 cm deep 
This figurine is very hard to find 
This is the first time we are able to sell this figurine 
In all the years that we are selling we have only seen him this one time. 

This is not an Enesco mass production which are very bright colored and lacking important details. 
This one been created by the expert craftmanship of Egbert who created the Classic Gnomes Collection which makes 
this figurine very RARE
He weighs 566 grams 
No original box 
Will be very carefully packed up in box with tracking and insurance 
** For True David the Gnome Collectors who want to purchase original authentic figurines please be aware that there are cheap knock-offs or Forgeries that were made of these statues. When you observe the imitations you can see the poor paint quality and bad workmanship and spelling errors. When you look at the figurines closely pay attention to the details. We As A Worldwide Top Seller only sell Authentic Original Rien Poortvliet Merchandise, with the Original Rien Logo to our customers who want to have the Real collection and not fakes.
**Please browse all of our RARE David the Gnome / Kabouter items
that are very hard to find and have been brought in to make 
available to our customers now through
Jadees Antique Bear Shoppe
Supplying Collectibles for over 10 Years
*JS Photography props are not included in the sale
For Many Years We Supply Vintage, Antiques
Rare Collectibles & One of a Kind Irreplaceable Items

We never alter, repair or replace any of the features
on our items as we like to leave them
in the original condition for our collectors
We feel replacing them with anything from a different era
makes them no longer original or authentic

All of our items are heavily researched for hours by our staff  
With a massive library of Collectors Identification Guides & Books, Magazines
 and Internet research
Everything we can find that pertains to that particular item
 we then type in the description

We do our utmost to correctly identify and price all of our items accordingly

We work to take as many photographs as possible
to help show the buyer in detail what they are purchasing

The items are then carefully packaged and put into a storage facility
where they are not removed until purchased and shipped


Buy with Confidence from One of the Worlds
Top Trusted Sellers of Vintage & Retired Bears and Collectible Items 


All rights reserved © Jadees Antique Bear Shoppe
All text, graphics, images, templates are copyrighted
by JSPhotos & Jadees Antique Bear Shoppe

Those should not be duplicated, copied, used
or modified in any way without our permission

All graphics and logo's from brand names are copyrighted
by their rightful owners and are used with permission.

We accept all major credit cards and bank payments through
PAYPAL
We Ship Worldwide

All items with item location CANADA
Will be shipped by Canada Post

All items with item location NETHERLANDS
Will be shipped by PostNL Netherlands

If you wish to combine shipping with another item
from our NETHERLANDS or CANADIAN Shoppe
Please check the store locations

Items purchased from different store locations
are Not Eligible for combined shipping
and will be shipped in separate parcels

If your items are purchased from the same location
we are happy to combine shipping for you

Please note that the additional item(s) must be purchased
within a 24 hour deadline
so that they may be packaged together


"Blessed shall be thy basket and thy store"
Deuteronomy (ch. XXVIII, v. 5)