Steiff Petsy Bear Growler Mohair 1928 Mint In Box 407383 Steiff Shipping Box
Sorry, this item is out of stock
Steiff Petsy Bear Growler Mohair 1928 Mint In Box 407383 Steiff Shipping Box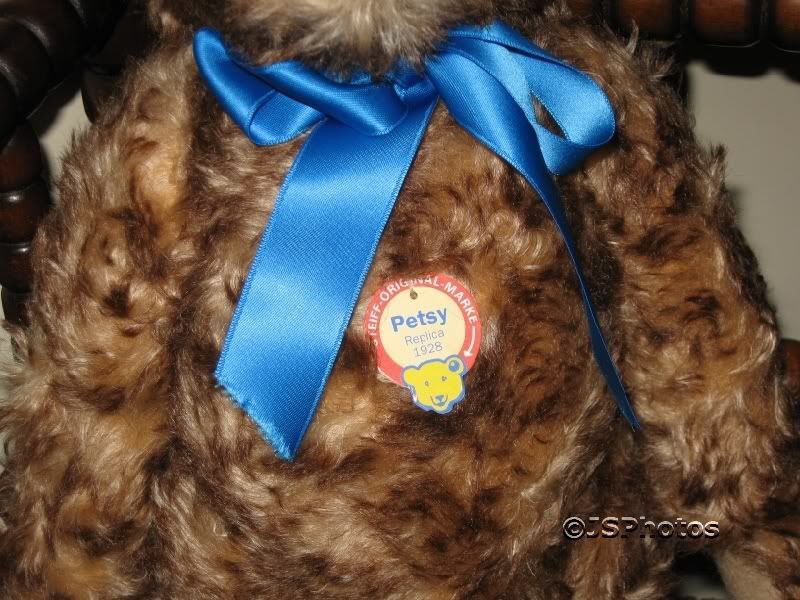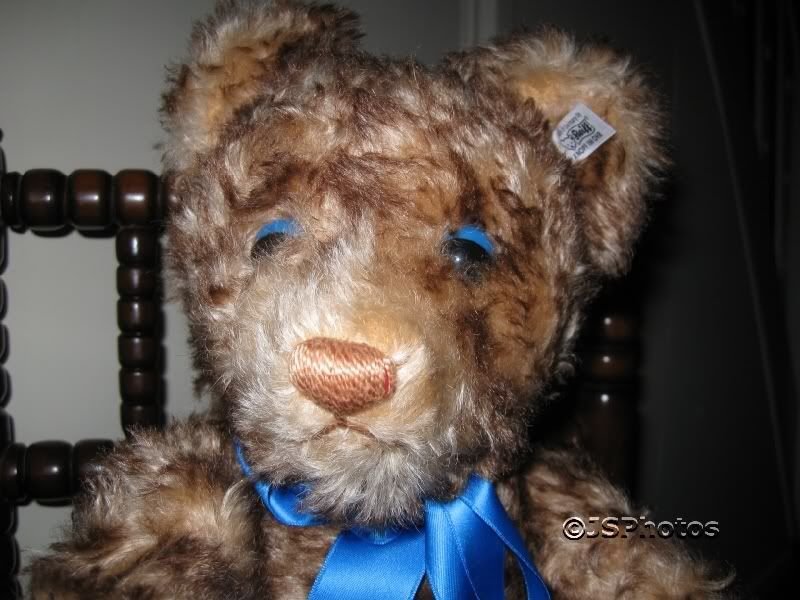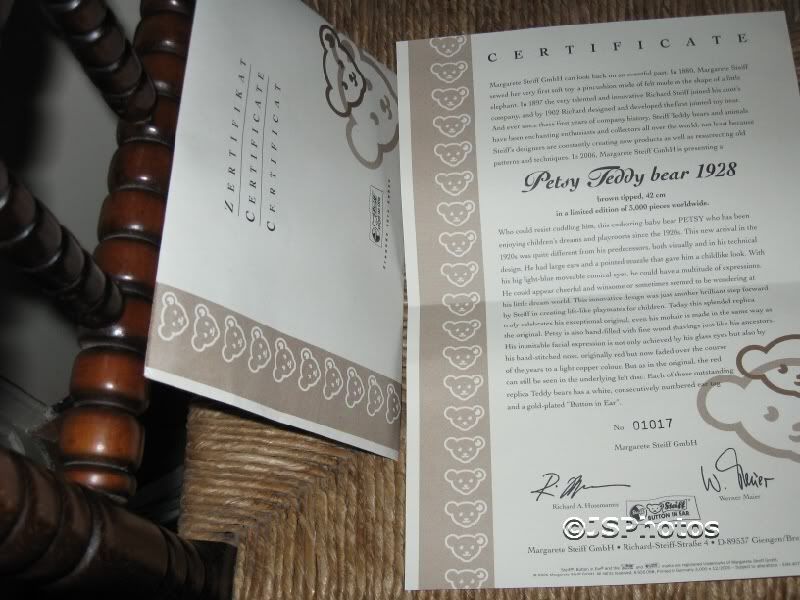 Richard A. Hussmanns Werner Maier 
Limited edition of 3,000 pieces worldwide 
Brand New with ALL Tags & Original Certificate 
Includes Gold Plated Button , Cloth Tag 
Bear Comes in Original White Box &  
Brown Original Over (shipping) Box 
Margarete Steiff Gmbh can look back 
In 1880, Margarete Steiff sewed her very first soft toy, a pincushion made of felt made in the shape of a little elephant.  
In 1897 the very talented and innovative Richard Steiff joined his aunt's company, and by 1902 Richard Designed and developed the first jointed toy bear. And ever since these first years of company history,  
Steiff Teddy bears and animals have been enchanting enthusiasts and collectors all over the world, not least because Steiff's designers are constantly creating new products as well as resurrecting old patterns and techniques. 
In 2006, Margarete Steiff GmbH is presenting a 
in a limited editition of 3,000 pieces worldwide 
Who could resist cuddling him, this endearing baby bear PETSY who has been enjoying children's dreams and playrooms since the 1920s. 
This new arrival in the 1920s was quite different from his predecessors, both visually and in his technical design.  
He had large ears and a pointed muzzle that gave him a childlike look. 
With his big light-blue moveable comical eyes, he could have a multitude of expressions. 
He could appear cheerful and winsome sometimes seemed to be wondering at his little dream world. 
This Innovative design was just another brilliant step forward by Steiff in creating life-like playmates for children.
Today this splendid replica truly celebrates his exceptional original, even his mohair is made in the way as the original.  
Petsy is also hand-filled with fine wood shavings just like his ancestors. 
His inimitable facial expression is not only achieved by his glass eyes but also by his hand-stitched nose, originally red but now faded over the course of the years to a light copper color. 
But as in the original, the red can still be seen in the underlying felt disc.  
Each of these outstanding replica Teddy Bears has a white, consecutively numbered ear tag and a gold-plated "Button in Ear" 
Richard A. Hussmanns Werner Maier  
*JS Photography props are not included in the sale
For Many Years We Supply Vintage, Antiques
Rare Collectibles & One of a Kind Irreplaceable Items

We never alter, repair or replace any of the features
on our items as we like to leave them
in the original condition for our collectors
We feel replacing them with anything from a different era
makes them no longer original or authentic

All of our items are heavily researched for hours by our staff  
With a massive library of Collectors Identification Guides & Books, Magazines
 and Internet research
Everything we can find that pertains to that particular item
 we then type in the description

We do our utmost to correctly identify and price all of our items accordingly

We work to take as many photographs as possible
to help show the buyer in detail what they are purchasing

The items are then carefully packaged and put into a storage facility
where they are not removed until purchased and shipped


Buy with Confidence from One of the Worlds
Top Trusted Sellers of Vintage & Retired Bears and Collectible Items 


All rights reserved  © Jadees Antique Bear Shoppe
All text, graphics, images, templates are copyrighted
by JSPhotos & Jadees Antique Bear Shoppe

Those should not be duplicated, copied, used
or modified in any way without our permission

All graphics and logo's from brand names are copyrighted
by their rightful owners and are used with permission.

We accept all major credit cards and bank payments through
PAYPAL
We Ship Worldwide

All items with item location CANADA
Will be shipped by Canada Post

All items with item location NETHERLANDS
Will be shipped by PostNL Netherlands

If you wish to combine shipping with another item
from our NETHERLANDS or CANADIAN Shoppe
Please check the store locations

Items purchased from different store locations
are Not Eligible for combined shipping
and will be shipped in separate parcels

If your items are purchased from the same location
we are happy to combine shipping for you

Please note that the additional item(s) must be purchased
within a 24 hour deadline
so that they may be packaged together


"Blessed shall be thy basket and thy store"
Deuteronomy (ch. XXVIII, v. 5)