UK Britain CANTERBURY Bear 1984 Vintage Brown Mohair 2 Feet 24 Inch RARE
UK Britain CANTERBURY Bear 1984 Vintage Brown Mohair 2 Feet 24 Inch RARE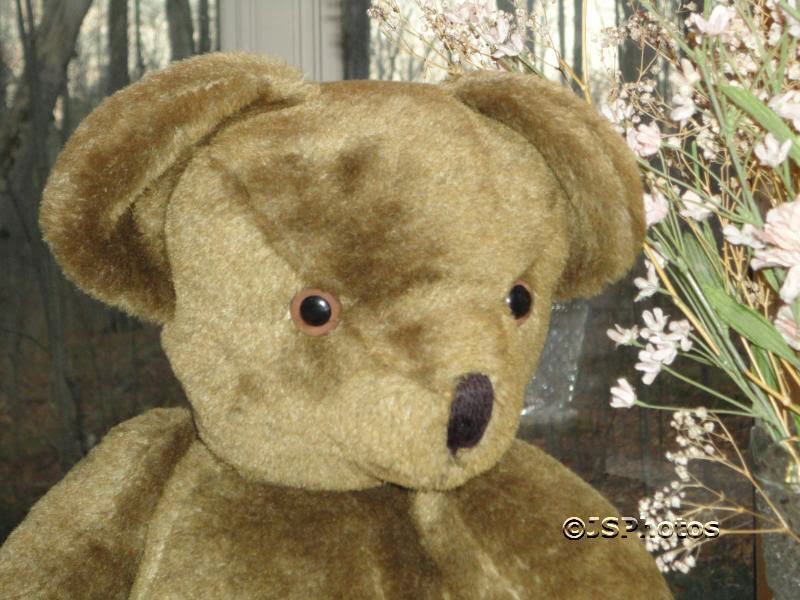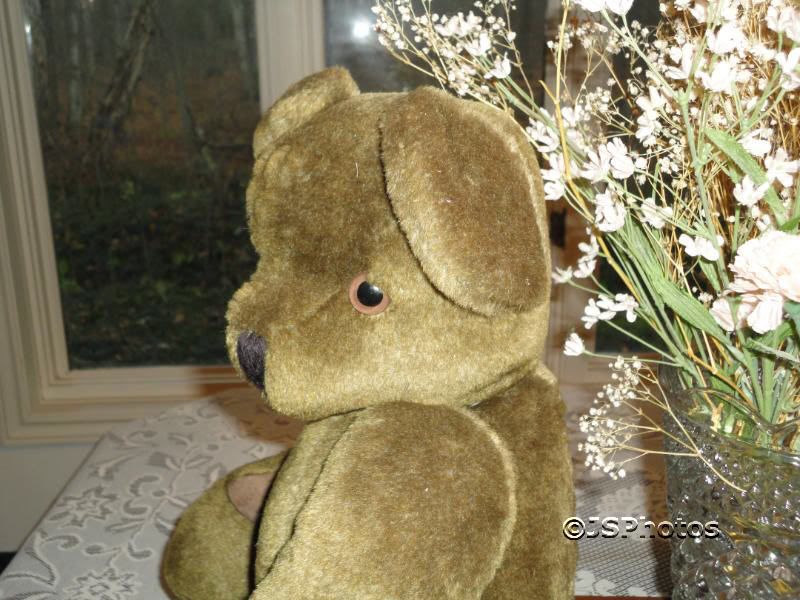 Jadees Antique Bear Shoppe  
Is Very Happy to Bring to Our Customers  
Our Latest Purchase of Antique Estate Bears  
He is One of the very first Canterbury Bears !
Brown Safe Plastic eyes with Black Pupils
Large flat ears that are sewn across the facial seam
Very large vertically stitched nose
Mouth is stitched and in an inverted Y shape
This Bear is in EXCELLENT Condition
A very nice heavy and solid stuffed teddy bear! 
A Traditional British Family Business
John Blackburn established Canterbury Bears with his daughter
Kerstin in 1980 at their home in Kent England
In 1984 they moved to its workshop in Littlebourne Canterbury England 
Made in the Canterbury Bear Shoppe 
In their first year of production making this bear very special 
One of the very first Canterbury Bears !
John's wife Maude and other children Mark and Victoria joined to help
Canterbury Bears are well known for their special commissions,
Canterbury Bears also produced 11 special designs in 1991
for exclusive distribution by Gund throughout Usa and Canada.
Canterbury Bears designs and produces a new line of limited edition
In 1987 the Mayor of Canterbury granted the firm the priviledge of using
this historic city's coat of arms on its labels 
Since 1985 British shops and museums, 
such as Daks-Simpson,Liberty's,Laura Ashley, 
Harrods and the Victoria & Albert Museum 
Have commissioned Canterbury Bears to produce teddy bears EXCLUSIVELY for them.
*JS Photography props are not included in the sale
For Many Years We Supply Vintage, Antiques
Rare Collectibles & One of a Kind Irreplaceable Items

We never alter, repair or replace any of the features
on our items as we like to leave them
in the original condition for our collectors
We feel replacing them with anything from a different era
makes them no longer original or authentic

All of our items are heavily researched for hours by our staff  
With a massive library of Collectors Identification Guides & Books, Magazines
 and Internet research
Everything we can find that pertains to that particular item
 we then type in the description

We do our utmost to correctly identify and price all of our items accordingly

We work to take as many photographs as possible
to help show the buyer in detail what they are purchasing

The items are then carefully packaged and put into a storage facility
where they are not removed until purchased and shipped


Buy with Confidence from One of the Worlds
Top Trusted Sellers of Vintage & Retired Bears and Collectible Items 


All rights reserved © Jadees Antique Bear Shoppe
All text, graphics, images, templates are copyrighted
by JSPhotos & Jadees Antique Bear Shoppe

Those should not be duplicated, copied, used
or modified in any way without our permission

All graphics and logo's from brand names are copyrighted
by their rightful owners and are used with permission.

We accept all major credit cards and bank payments through
PAYPAL
We Ship Worldwide

All items with item location CANADA
Will be shipped by Canada Post

All items with item location NETHERLANDS
Will be shipped by PostNL Netherlands

If you wish to combine shipping with another item
from our NETHERLANDS or CANADIAN Shoppe
Please check the store locations

Items purchased from different store locations
are Not Eligible for combined shipping
and will be shipped in separate parcels

If your items are purchased from the same location
we are happy to combine shipping for you

Please note that the additional item(s) must be purchased
within a 24 hour deadline
so that they may be packaged together


"Blessed shall be thy basket and thy store"
Deuteronomy (ch. XXVIII, v. 5)