Vintage Disney COUNTRY BEAR JAMBOREE Big AL Bear 15in.



Vintage Retired Disneyland

COUNTRY BEAR JAMBOREE
Big Al Bear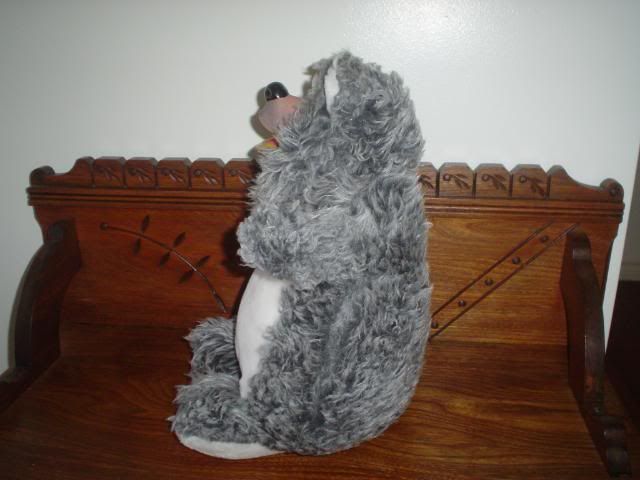 Disneyland - Walt Disney World
 
COUNTRY BEAR JAMBOREE
Vintage Big Al Bear
 
15" tall
9" wide belly measuring from front to back
Large rubber face
Grey shaggy furry plush
White softer smooth plush
Vintage cloth tag reads Disneyland Walt Disney World
Canasa Trading Corp Burbank Ca
MFR 102
 
 Bear has some wear and sold AS IS
 
 
Anyone who knows Disney or who has visited
the famous theme park
knows of this wonderful attraction
 
I have purchased a very RARE and highly collectible bear
that is a piece of history for avid Disney collectors
to add to their collection
 
 
" Walt knew he wanted some sort of show to provide entertainment
to the guests at the resort, and he knew he wanted the show
to feature some sort of bear band.
The project was assigned to imagineer Marc Davis.

Davis, together with Al Bertino came up with many bear groups,
including bear marching bands, bear mariachi bands, and Dixieland bears.
One day Davis was working on drawings of the characters in his office.
 Walt Disney walked in and saw the drawings and laughed
because he loved the characters.
On Walt's way out he turned to Marc Davis and said "Good Bye",
which Walt was known never to say.
A few days later he died on December 15, 1966.
It was the last time Marc saw Walt.
After Walt's death, plans for the show still carried on.
The bears would be featured in the resort's Bear Band Restaurant Show,
and it was decided that they would have a country twang.

On October 1, 1971, The Country Bear Jamboree opened its doors
in the Magic Kingdom at Walt Disney World.
It received so much good feedback that Imagineers immediately planned
to make a replica of the show to be placed in Disneyland. "





  





See my other listings for more great items!
For Many Years We Supply Vintage, Antiques
Rare Collectibles & One of a Kind Irreplaceable Items

All of our Items are Kept Carefully Sealed in Storage
in a Smoke Free Environment

Buy with Confidence from One of the Worlds
Top Trusted Sellers of Vintage & Retired Bears
This item will be shipped Worldwide
by
Canada Post
with Insurance & Tracking



"Blessed shall be thy basket and thy store"


Deuteronomy (ch. XXVIII, v. 5)
Template Design by: Nutmegcrisp Designs
txzj pxzj12751 txzj50 txzj103