Vintage Russian Lithuanian Highlands Doll In Traditional Outfit 17 Inch
Vintage Russian Lithuanian Highlands Doll 17" Original Traditional Outfit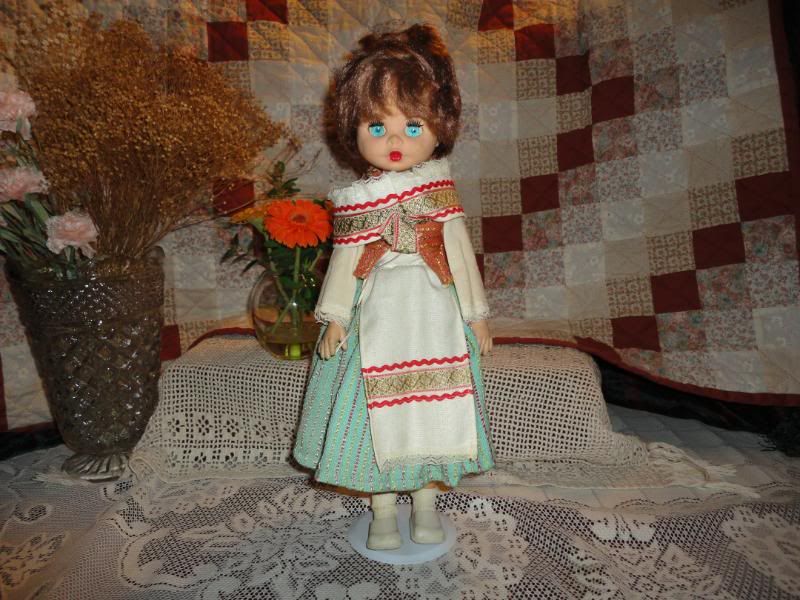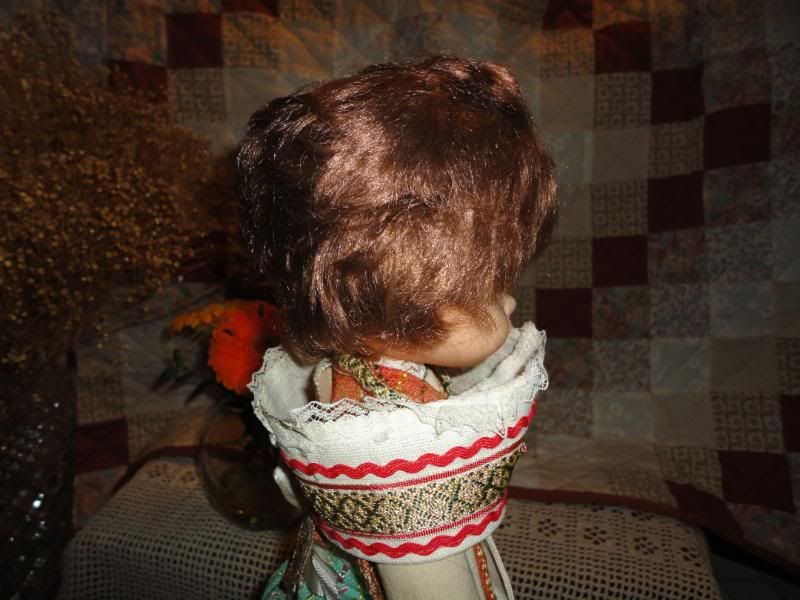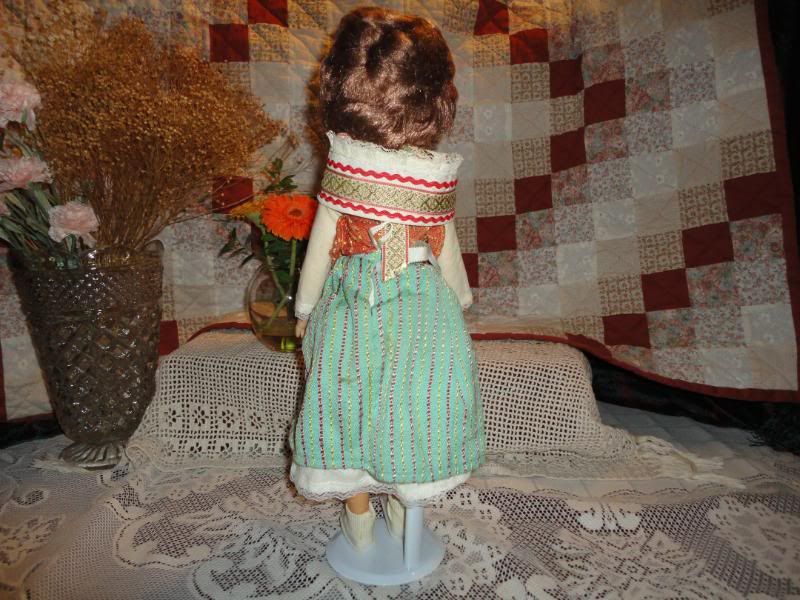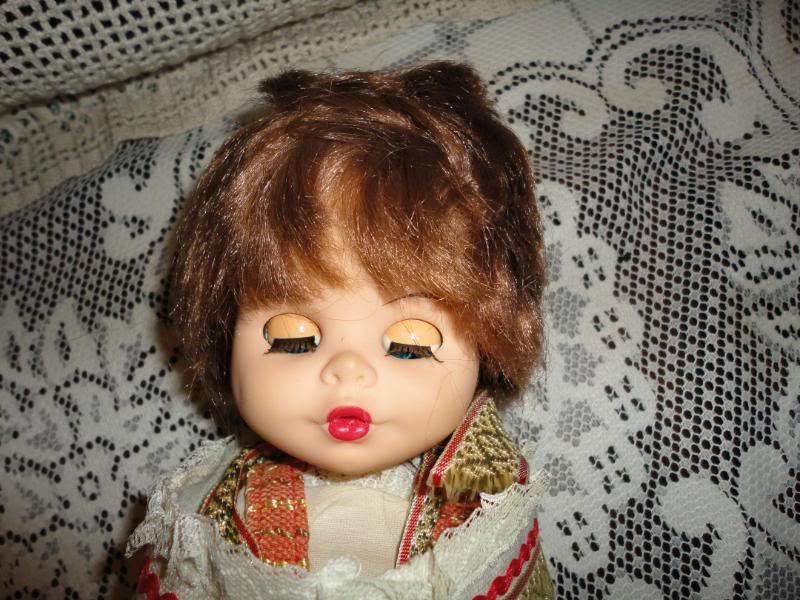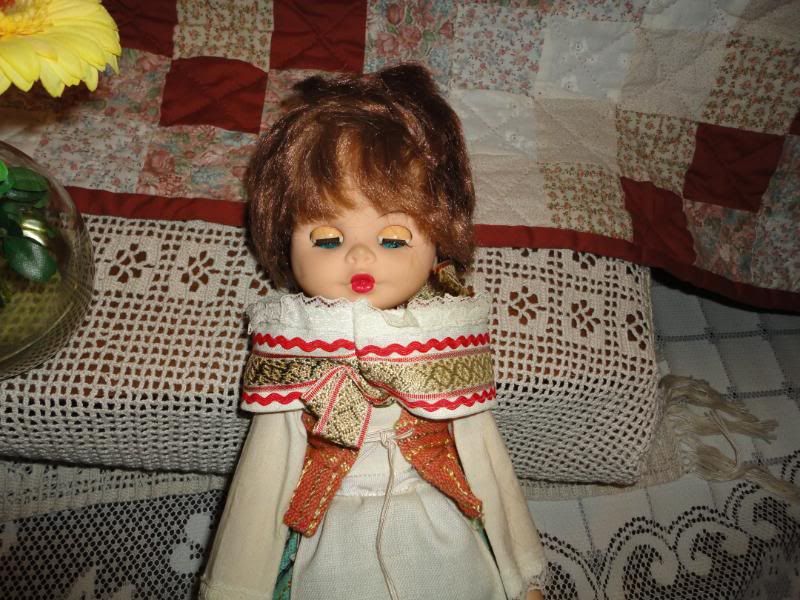 Vintage Russian Lithuanian Highlands Doll 17" Original Outfit
 
17 inches tall

Comes dressed in Complete outfit

including original socks and shoes 

This doll her outfit represents an Lithuanian traditional costume
from the region of "Aukštaitija", also called the Highlands.


Outfit consists of

heavy tweed skirt

underskirt

panties

blouse

tweed vest

apron

headband

She has a soft rubber head and arms

hard plastic legs

her eyes open and close

I have checked and I cant seem to find

any markings


As I am not a doll expert and handle antique bears

I am unable to say what age or manufacturer 

and I leave this up to the doll experts to decide

Doll is sold AS IS 

The doll looks Russian made and has the typical soft vinyl face and the typical eye lashes used on Russian manufactured dolls including the unusual color of blue eyes
It could be a Lithuanian folk costume but its covered up with the sash and it is difficult to see.The sash could be removed around the neck and just lay out by the doll.
Lithuanian hand woven sash is world famous,but it is not worn around the neck
the typical folk head dress is missing along with the folk wooden shoes 
The doll was probably made in Moscow for the Lithuanian tourist trade during the Soviet period when all forms of art (jobs) were being made in Moscow for the protected satellite nations. 
The many art forms are only now starting to come back 
in those former satellite nations no longer being protected by Russia
*JS Photography props are not included
For Many Years We Supply Vintage, Antiques
Rare Collectibles & One of a Kind Irreplaceable Items

We are very particular and choose only the best
We also make sure they are odor free and from smoke free homes

We never alter, repair or replace any of the features
on our bears & animals as we like to leave them
in the original condition for our collectors
We feel replacing them with anything from a different era
makes them no longer original or authentic

All of our bears are heavily researched for hours by our staff
with a massive library of Bear Collectors Identification Guides & Books
Bear magazines and Internet research
Everything we can find that pertains to that particular bear we then type in the description

We do our utmost to correctly identify and price all of our items accordingly.

Professional photographers work to take as many pictures as possible
to help show the buyer what they are purchasing.

The bears are then carefully packaged and put into storage
where they are not removed until purchased and shipped.


All of our Items are Kept Carefully Sealed in Storage
in a Smoke Free Environment


Buy with Confidence from One of the Worlds
Top Trusted Sellers of Vintage & Retired Bears
See my other listings for more great items!







We accept all major credit cards and bank payments through Paypal
This item will be shipped Worldwide
by
Canada Post
Method used: Airmail with Insurance


"Blessed shall be thy basket and thy store"


Deuteronomy (ch. XXVIII, v. 5)












 
txzj pxzj4022 txzj71