Vintage Wooden France Summer Doll House by Sio Holland 1970s
Sorry, this item is out of stock
Vintage Wooden France Summer Doll House by sio Holland 1970's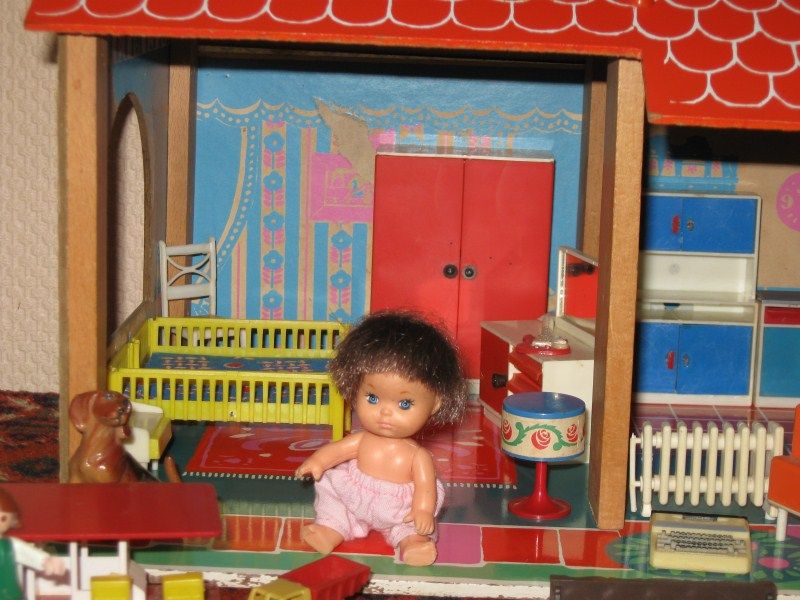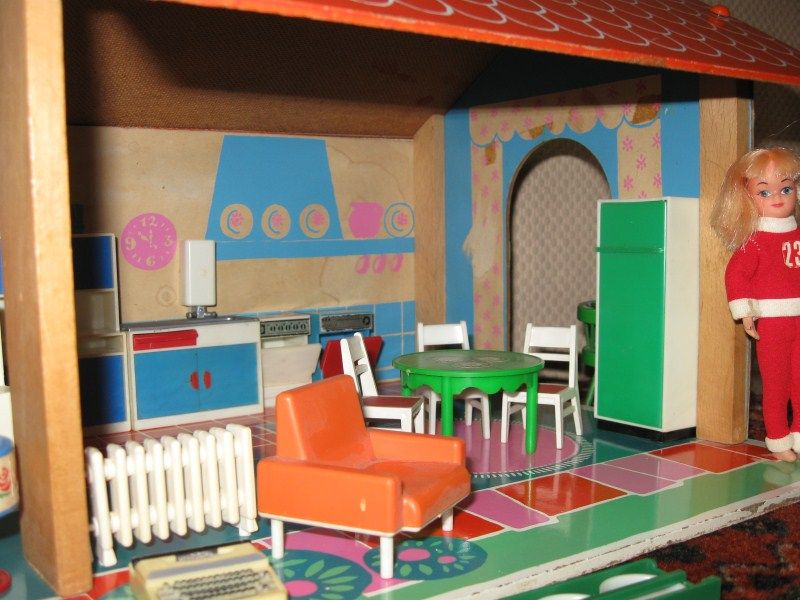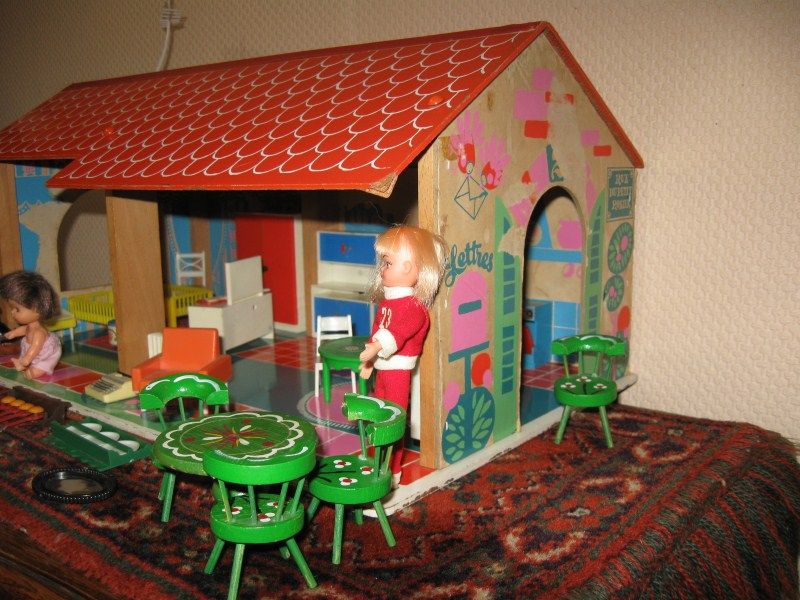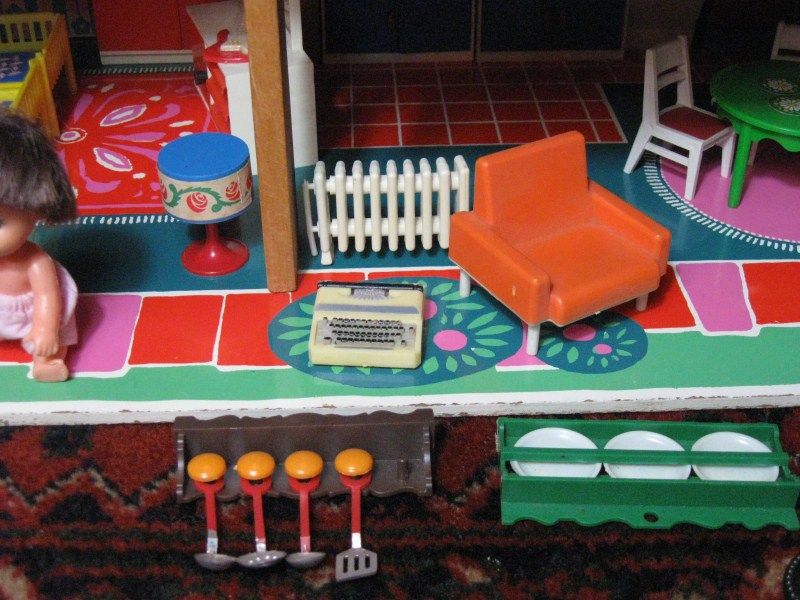 Up for sale 

A very nice vintage 1970's house of sio

This house represents a gîte in France
A kind of summer house 

Located at Rue de petit Rosier which means Small Rose Street 

It has a spacious kitchen and a nice bedroom 
A nice patio so you can relax and play happily outside
 
It is complete with antenna and radiator

The bedroom is furnished and the kitchen is complete

A plate rack and spoon rack and heater lying there,
They are not glued to the walls 

There is an additional armchair with typewriter,
it is often writers who have an extra house in France

There is a miniature garage with car toy for the little baby doll

and an old guitar and mirror sitting on the dresser

A porcelain dachshund

Also a wooden table set outside and a very beautiful doll
in a training suit
The doll is marked 1981 Made in Hong Kong


The wallpaper left and right has started to wear off and peeled from age
which is not immediately noticeable



All furniture and belongings will be included in the sale

This house is packed with
all old plastic Modella and Jean furniture and belongings
The typewriter etc.


The house measures approx
50 cm - 19.7 inch wide
24 cm - 9.5 inch high
30 cm - 12 inch deep

Please see our pictures for all details
The pictures are part of the description
"The sio factory was founded in 1938 just before the Second World War
in a village called Vroomshoop in Overijssel (Dutch province)

sio stands for Speelgoed Industrie Overijssel
which means Toy Industry Overijssel

Most of the sio miniature shops were made during the 1950s
The sio doll houses however, date mostly from the 1970s

Some pieces of sio are included in the collection of the Stedelijk Museum in Amsterdam.

In the fifties
sio

made

wooden

grocery

stores

and later

substances

wrappers

,


complete with '

bales of fabric

.


In the

seventies,

they made shops

like

small boutiques

and later bigger

boutiques
for teen
dolls on
the market
,
but
made of
cardboard
and
printed hard board
.
In the
last ten
years of its existence
sio
made
also
dollhouses
.
In the seventies

, a part of

the

production was moved to

Seiffen

in the Ore Mountains

.


In 1972

all

shares

were

transferred to

the

British

empire

toys

DCM

(

Dundee

Combex

-

Marx

)

in the hope that

through

the larger

outlets

of

the

turnover could be

increased.



In 1979, the

foreign competition

became so great
 (from countries like the DDR,Taiwan,Czech Republic and Hungary)
and also from the fact of the increasing market of plastic toys
which became more and more popular then wooden toys
that

the company

decided

to stop

.
 
The

staff

was

dismissed with effect

,

but

from subsequent

messages

can be concluded

that the company

finally

got

a relaunch

under the

new

parent company

JW

Spear

and Sons

PLC

.



In 1982

the plant

burned

down

in Vroomshoop

and

the

entire

production

was lost

.


Spear

then brought the

production

of

wooden

toys over

to the

Homas

factories in

Assen

, Netherlands.


This house has some wear from age and we sell it as it is shown
Please note that the house is vintage and has flaws
but we never touch our vintage or antiques
and like to leave them in total authentic
original condition for our customers

Please note the weight of this doll house

1760 grams - 3.880 lb empty
2225 grams - 4.900 lb with all accessories

This is without a box and packaging materials

Shipping will be by PostNL Tracked and insured


** Please feel free to browse our Shoppe for
more antique and vintage doll houses
**Antique and Vintage items by their very nature may show




normal to extreme wear and/or miscellaneous faults




due to age and use.





As we define the condition that is relative to




the stated age of the piece,




we would expect to see some 'character marks'




consistent with the age






Please view all pictures

*JS Photography props are not included in the sale 


For Many Years We Supply Vintage, Antiques
Rare Collectibles & One of a Kind Irreplaceable Items
We never alter, repair or replace any of the features
on our bears & animals as we like to leave them
in the original condition for our collectors
We feel replacing them with anything from a different era
makes them no longer original or authentic
All of our bears are heavily researched for hours by our staff
with a massive library of Bear Collectors Identification Guides & Books
Bear magazines and Internet research
Everything we can find that pertains to that particular bear we then type in the description
We do our utmost to correctly identify and price all of our items accordingly.
Professional photographers work to take as many pictures as possible
to help show the buyer what they are purchasing.
The bears are then carefully packaged and put into storage
where they are not removed until purchased and shipped.
Buy with Confidence from One of the Worlds
Top Trusted Sellers of Vintage & Retired Bears
All rights reserved © Jadees Antique Bear Shoppe
All text, graphics, images, templates are copyrighted
by JSPhotos & Jadees Antique Bear Shoppe
Those should not be duplicated, copied, used
or modified in any way without our permission.
All graphics and logo's from brand names are copyrighted
by their rightful owners and are used with permission.
We accept all major credit cards and bank payments through Paypal 
We Ship Worldwide

All items with item location CANADA
Will be shipped by Canada Post

All items with item location NETHERLANDS
Will be shipped by TNT Post Netherlands

If you wish to combine shipping with another item
from our NETHERLANDS or CANADIAN Shoppe
Please check the store locations

Items purchased from different store locations
are Not Eligible for combined shipping
and will be shipped in separate parcels

If your items are purchased from the same location
we are happy to combine shipping for you

Please note that the additional item(s) must be purchased
within the 3 day deadline
so that they may be packaged together
International Buyers – Please Note:
Import duties, taxes, and charges are not included
in the item price or shipping cost.
These charges are the buyer's responsibility.
Please check with your country's customs office to determine
what these additional costs will be prior to bidding or buying.
Customs fees are normally charged by the shipping company
or collected when you pick the item up.
These fees are not additional shipping charges.
We cannot under-value merchandise
or mark the item as a gift on customs forms.
Doing that is against international laws
and the correct cost of the item is required
if an insurance claim needs to be filed.
If an insurance claim is required at TnT or Canada Post
we will be asked for the correct sold price and our shoppe identification
therefore we cannot mark it as a gift.
"Blessed shall be thy basket and thy store"
Deuteronomy (ch. XXVIII, v. 5)
txzj pxzj1582 txzj39