Pickford Brass Button 1910s GABRIELLE Bear 1999
Brass Button 1910's GABRIELLE Bear 1999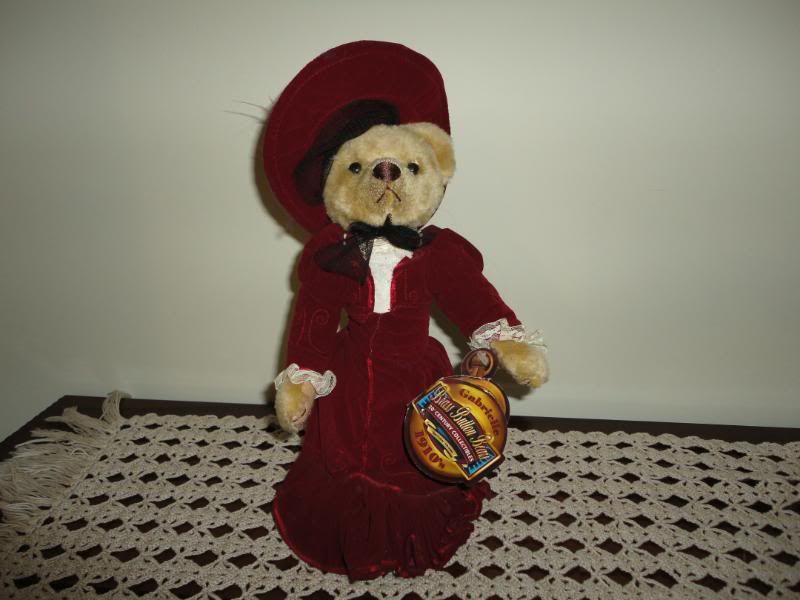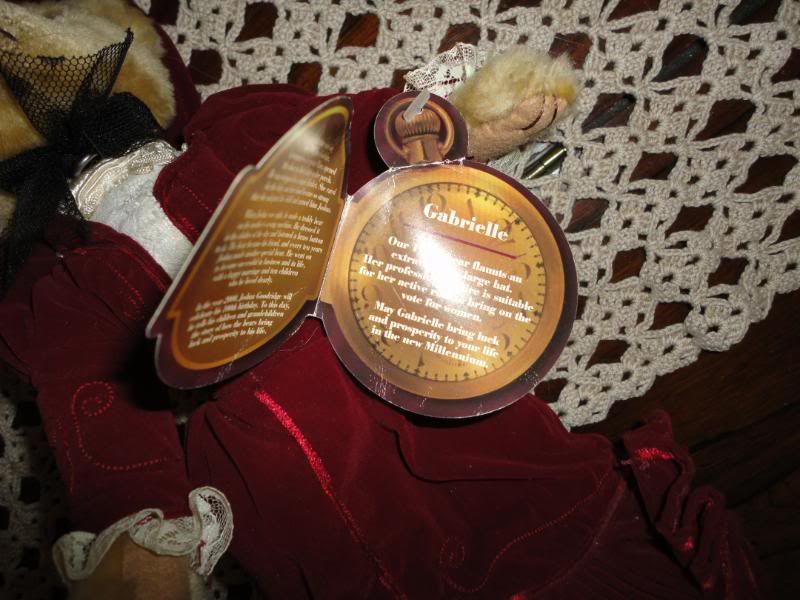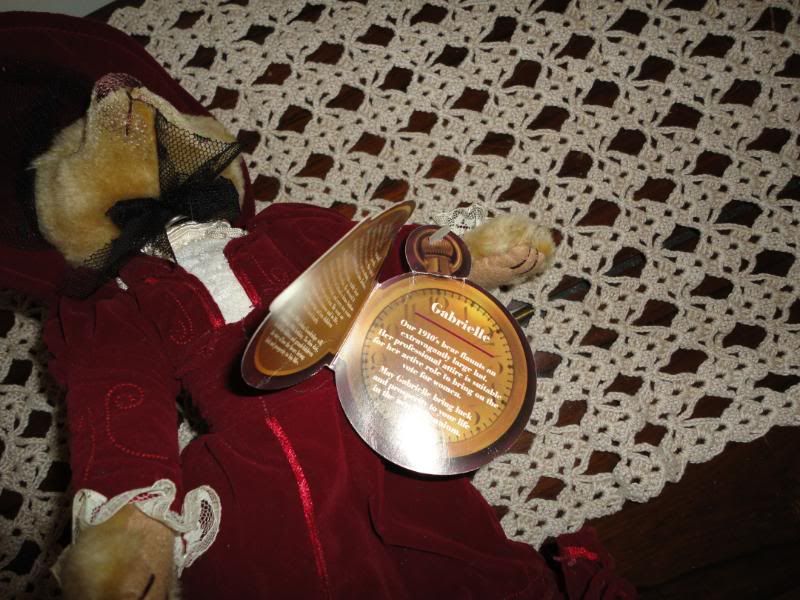 Pickford Brass Button Bears
20th Century Collectibles
Hand Crafted - Fully Jointed
1910's GABRIELLE Bear
12 inches tall
Comes with All Original clothing & tags
Also comes with stand
"Our 1910's bear flaunts an extravagant large hat
Her professional attire is suitable for her active role
to bring on the vote for women
May Gabrielle bring luck and prosperity to your life"
History of  Brass Button Bears
On a sunny winters day in 1900 June Goodridge,
a seamstress in upstate Maine, opened the door
to find a baby on her porch.
He was wrapped in a simple blanket
She cared for the baby and their bond became so strong
that she adopted the child and named him Joshua.
When Joshua was eight, he made a teddy bear on his mothers
sewing machine. 
He dressed it in the clothes of the day and fastened a 
brass button to it.
The bear became his friend and every ten years
Joshua made another special bear.
He went on to become successful in business and life,
with a happy marriage and ten children
In the year 2000 Joshua Goodridge will celebrate
his 100th Birthday.
To this day he tells his children and grandchildren
the story of how the bears bring luck and 
prosperity to his life.

Such a BEAUTIFUL Addition to our Shoppe
and for our Customers to add to their
Bear Collections
** JS Photography props are not included in the sale
For Many Years We Supply Vintage, Antiques
Rare Collectibles & One of a Kind Irreplaceable Items

We never alter, repair or replace any of the features
on our bears & animals as we like to leave them
in the original condition for our collectors
We feel replacing them with anything from a different era
makes them no longer original or authentic

All of our bears are heavily researched for hours by our staff
with a massive library of Bear Collectors Identification Guides & Books
Bear magazines and Internet research
Everything we can find that pertains to that particular bear we then type in the description

We do our utmost to correctly identify and price all of our items accordingly.

Professional photographers work to take as many pictures as possible
to help show the buyer what they are purchasing.

The bears are then carefully packaged and put into storage
where they are not removed until purchased and shipped.


Buy with Confidence from One of the Worlds
Top Trusted Sellers of Vintage & Retired Bears
See my other listings for more great items!
 

We accept all major credit cards and bank payments through
PAYPAL
We Ship Worldwide

All items with item location CANADA
Will be shipped by Canada Post

All items with item location NETHERLANDS
Will be shipped by TNT Post Netherlands

If you wish to combine shipping with another item
from our NETHERLANDS or CANADIAN Shoppe
Please check the store locations

Items purchased from different store locations
are Not Eligible for combined shipping
and will be shipped in separate parcels

If your items are purchased from the same location
we are happy to combine shipping for you

Please note that the additional item(s) must be purchased
within the 3 day deadline
so that they may be packaged together


"Blessed shall be thy basket and thy store"


Deuteronomy (ch. XXVIII, v. 5)











 

txzj pxzj4617 txzj71